South African Holiday from India (Apr 25th – May 6th 2019)
Our trip to South Africa was the best family vacation we ever had. South Africa was a complete package with charming scenic beauty, an enriching culture, great history and fascinating wildlife. Our group was a big one with around 14 family members with ages ranging from 10months to 70 years. So we were inherently restricted from any overtly adventurous endeavors. However, for our relief, SA provides adequate opportunities for all age groups.
We flew from Mumbai to Johanessburg via Dubai and the flight duration was 4 hrs and 9 hrs for first and second legs respectively. We flew in emirates and both the flight and transit time at Dubai International airport were quite comfortable. The best thing about Dubai airport is that they have baby strollers kept all around the airport (of course free of cost), especially at locations just outside the jet-bridge so that those with small kids can have a comfortable walk-around. It was particularly a lifesaver for us who had with us a 4year old and a 10 month old. Emirates flight also provides free in-flight wifi for 20MB or 20 mins, which is also useful especially if you need to inform someone just prior arrival. It would be good if you keep some water with you from flight itself prior disembarkation as water in SA is not free and sometimes very costly. South African currency is Rand, often written as ZAR (Zuid Africaanse Rand) and it was equivalent to around five Rupees.
Johannesburg
Just outside the Johannessburg airport, you have a couple of shops from which you can buy sim cards. We bought MTN sim cards which costed ZAR 63.50 which includes a talk time worth ZAR 60 (if I remember correctly, it was one ZAR per minute). Recharges for internet bundles were also available with 100 MB (ZAR 29), 300 MB (ZAR 60), 600 MB (ZAR 99), 1GB (ZAR 149), 3 GB (ZAR 299), 6 GB (ZAR 399), 10 GB (ZAR 899), 20 GB (ZAR 899) and 30 GB (ZAR 1249). You will need your passports to buy them. We stayed in an AirBnB apartment at Boksburg in Johannessburg and it was a wonderful stay. The hosts picked us up from the airport and dropped us back in their car for a nominal cost of ZAR 80 per trip and they also gave us conveyance to a nearby mall. Johannessburg is not known to be one of the safest places and hence its always advised to take Uber or other reliable and safe modes of transport.
Though there are a host of activities in Johannesburg, we restricted our trip to only one main attraction : Lion & Safari Park and we were picked up and dropped off by car from/to our accommodation by the tour operator (ask@moafrikatours.com). Its around an hour and half from Johannesburg and they have lots of animals including Lions, White Lions, Cheetahs, Hyenas, Wildebeasts, Springboks, Kudus, Giraffes, Zebras, Ostriches and a long list. They will drive you around in their safari vehicles or you can drive through in your own vehicles through the enclosures. I was shocked to see many lions jumping on top of cars and pickup vans of tourists. However, as we were informed by the guides, lions are sociable cats and they can be very friendly (unlike most of the other wild cats). When you book the tickets, make sure you also book the activity of playing with lion cubs. They are really cute and your kids will enjoy it. Kids under the age of 12 enter for free in the park. You can also feed giraffes and ostriches by paying a nominal amount to buy the feed. The whole safari lasted for around 3 hrs and it's a half day trip which costed us ZAR 1100 per head including pickup/ drop. While coming back, we had a quick drive through the Soweto area also. We flew from Johannesburg to East London in a Kulula airways flight after spending one night.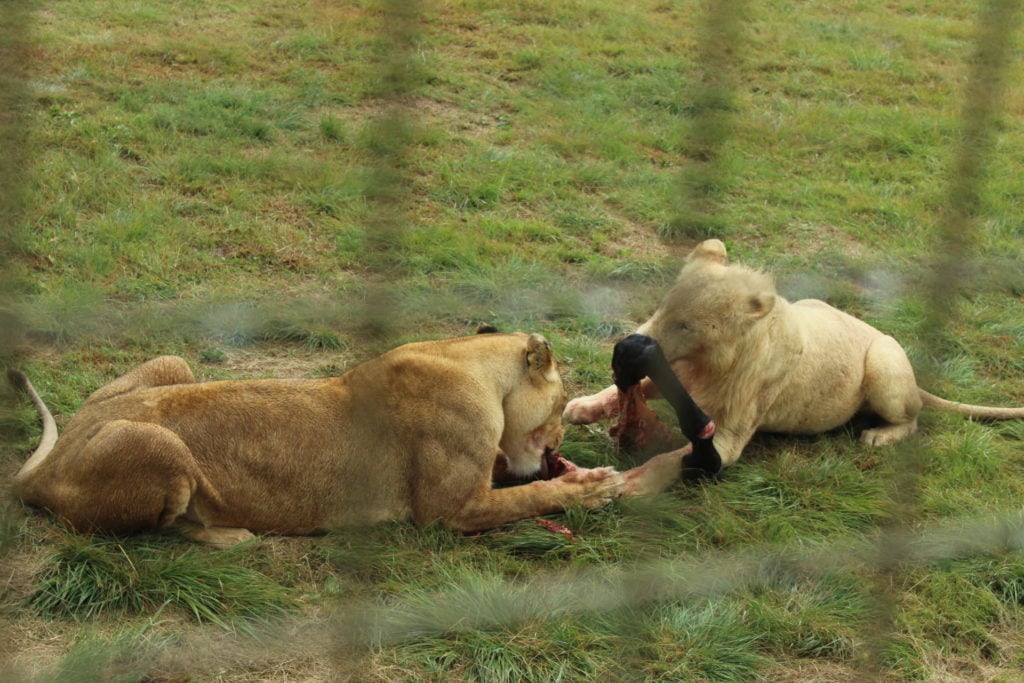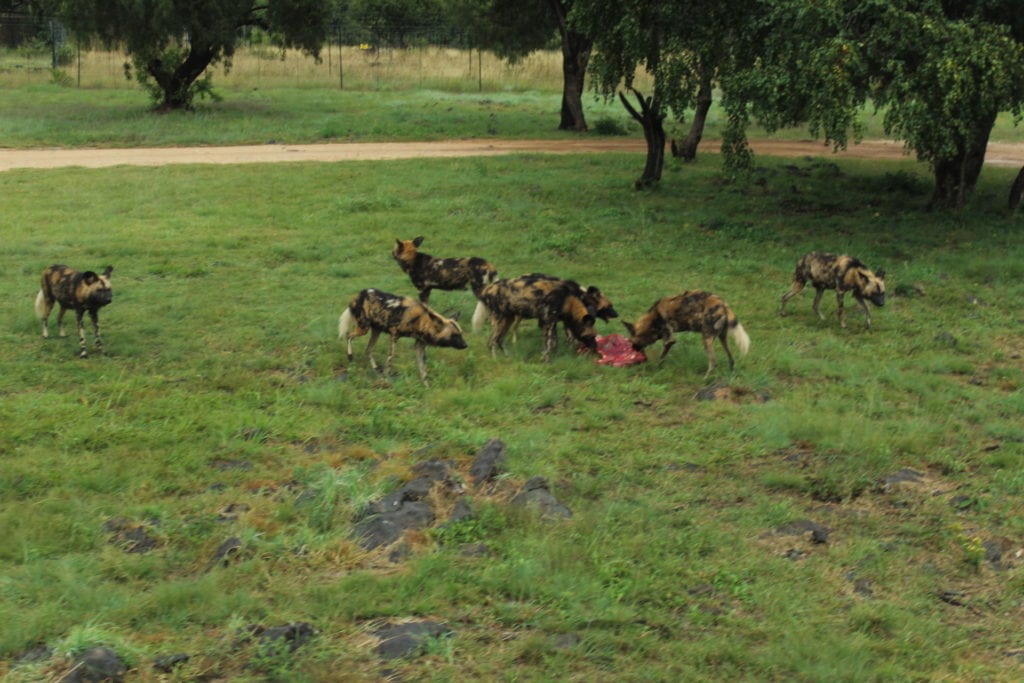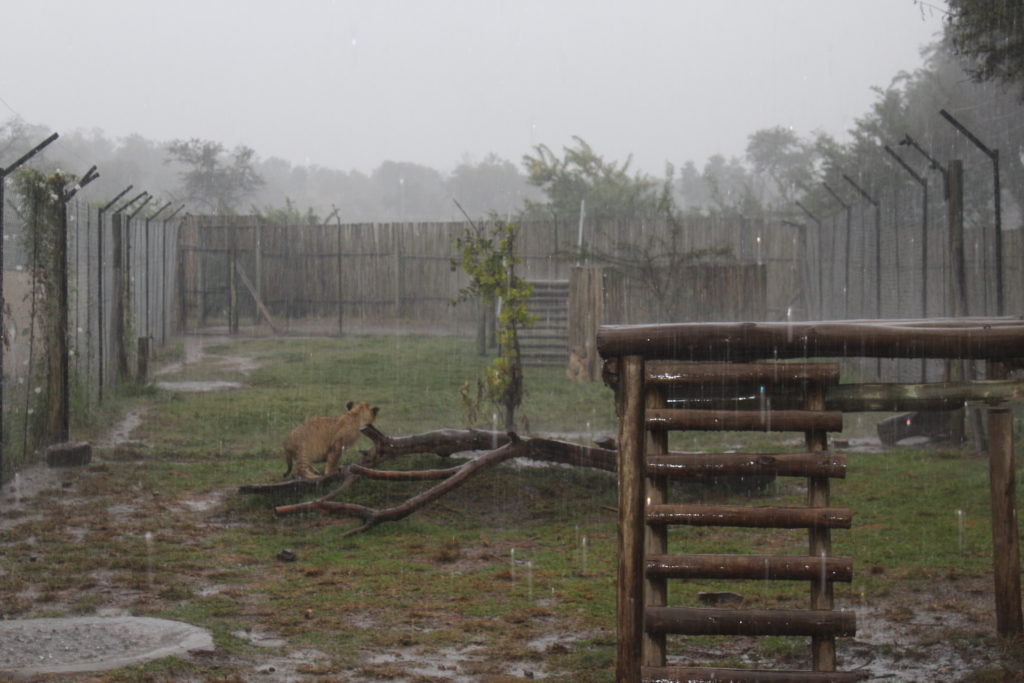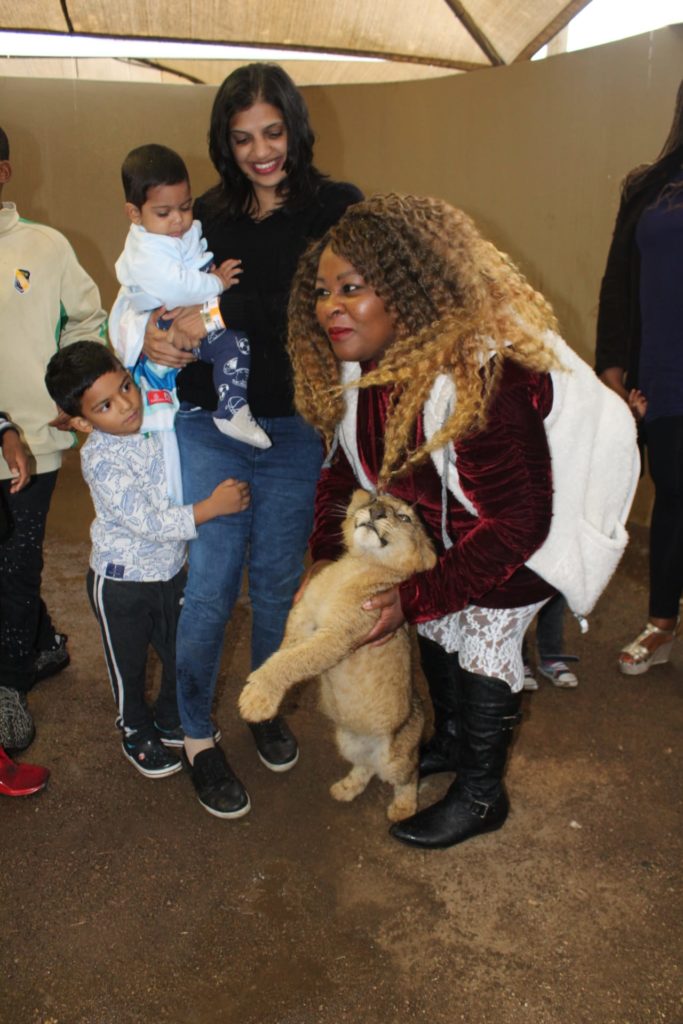 East London
The primary purpose of our trip was attending our cousins wedding ceremony at East London. Needless to say that the one week we spend at East London were the best times in the  whole trip with all our loved ones around and being part of our dear cousins special occasion. East London is a beautiful metropolitan in SA and there are a lot of attractions in and around the place. Our accommodations were catered by our hosts at Lord Selbourne Guest House, Selbourne (https://lordselborne.co.za/) and it was an enchanting property. We really enjoyed our stay there and could spend quality time with family. We also went around various places like the Nahoon mouth beach, East London Aquarium (seals only) and also some shopping places. There are numerous shopping malls and other areas in East London to meet all your requirements. We had hired a car (Hyundai i20) for our conveyance there and it costed us around ZAR 250 per day (without insurance/ excess protection). In South Africa any drivers licence written in English would legally authorize you to drive around. It is a beautiful city and our aunt had taken great interest and care in making it the best time we all had with our family members. We also went on a nahoon river cruise and a sumptuous lunch in one of the nearby sea-food restaurants (Sea Spirit Fish Market : https://www.tripadvisor.in/Restaurant_Review-g312556-d15309523-Reviews-Sea_Spirit_Fish_Market-East_London_Eastern_Cape.html) which cooks fresh-catch. I would say that the lunch we had there was one of the best meals that I've had in my whole life! Our next destination was Port Elizabeth to where we went on road by a bus.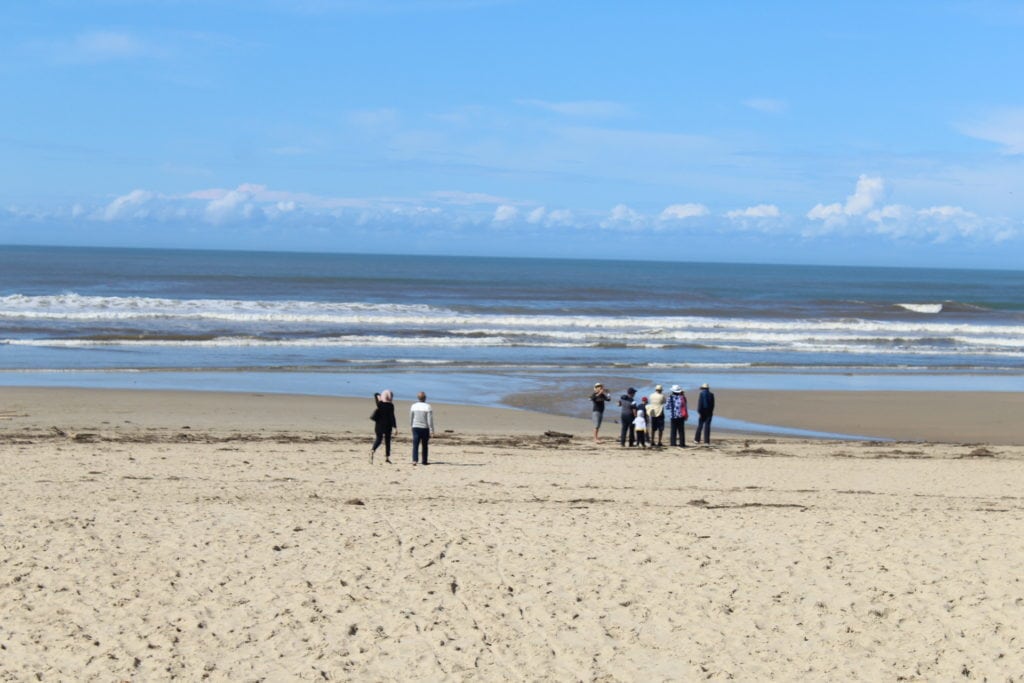 Port Elizabeth
Port Elizabeth, also known as the windy city, is an extremely beautiful place with lots to offer for a holiday. Though we spend only two nights there, it was quite an enchanting experience altogether. Addo Elephant National Park, the third largest national park in SA, is around 50kms from Port Elizabeth and it was our first destination. We took a half day tour in the morning session in our own bus and we could sight African Elephants, Cape Buffalos, Warthogs, Zebras, Kudus, Springboks, Ostriches and most importantly, the dung beetle, an endangered species of beetle that feed on the dung of animals. Though some lions are there in the park, it is a rare event to sight them. Addo Elephant Park is the only national park that boasts of having the Big Seven, including the Great Whites and Southern Right Whales. It is important to go on a vehicle where there is enough space to move around for all for getting a sight of animals on both sides of the road. There is a restaurant in the park (at the entrance/ exit location) near to the souvenir shop and it offers game meat, including Springbok, Warthog, Zebra etc. After our Addo trip, we came back and went around the beautiful city of Port Elizabeth and had the opportunity to experience the heavy winds at numerous beach-front locations. It was an amazing experience and the time of a lifetime.
Though we flew (SAF Air) from Port Elizabeth to Cape Town, I would strictly advice everyone to drive along the beautiful road known as the Garden Route (https://www.bookmundi.com/t/the-garden-route-in-south-africa-the-ultimate-road-trip). The drive will be one of the most beautiful roads you would ever see with sea on one side and dense greenery on the other. Its only when we drove from East London to Port Elizabeth, that we realized what we were missing by flying from Port Elizabeth to Cape Town and not driving. Guys, you would never want to miss it with stops at Knysna, Mossel bay and George. There is also a Ostrich Park in the route where you can take a ride sitting on Ostriches.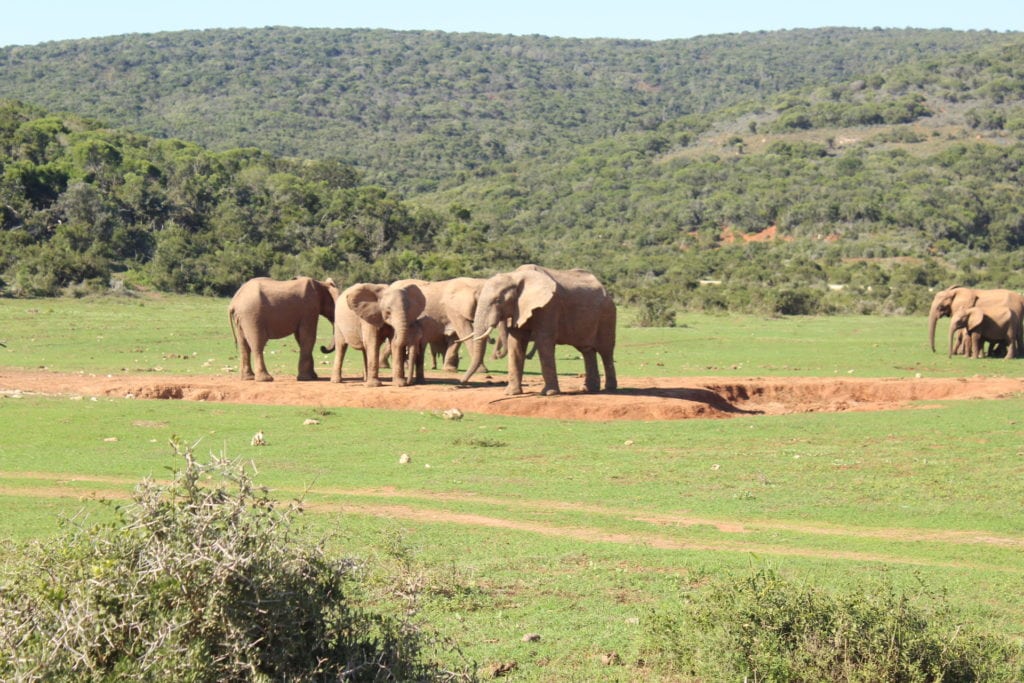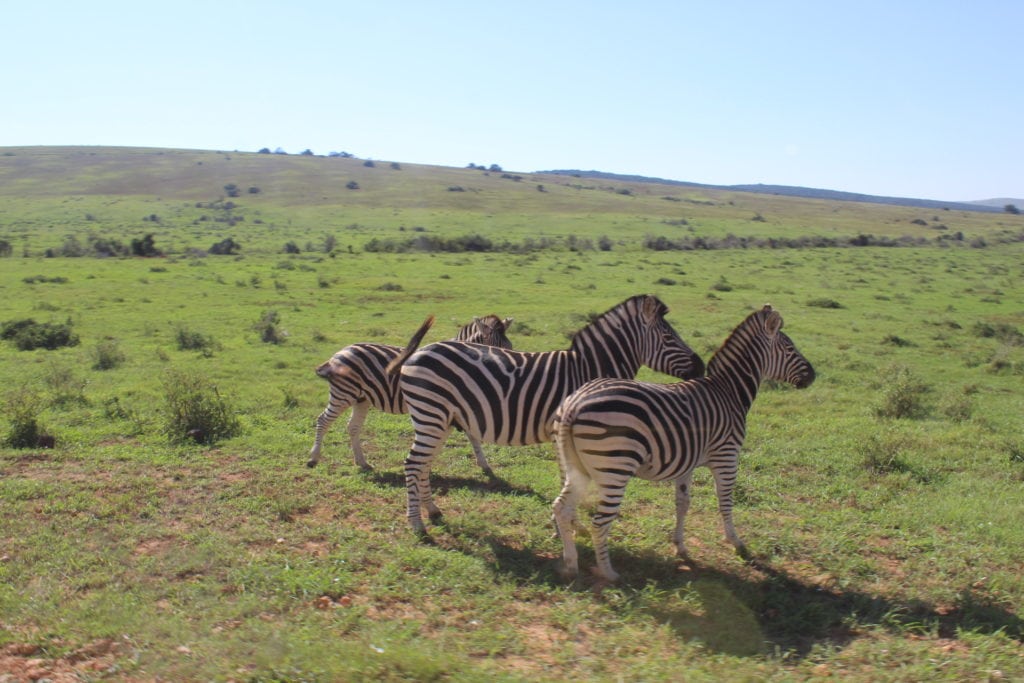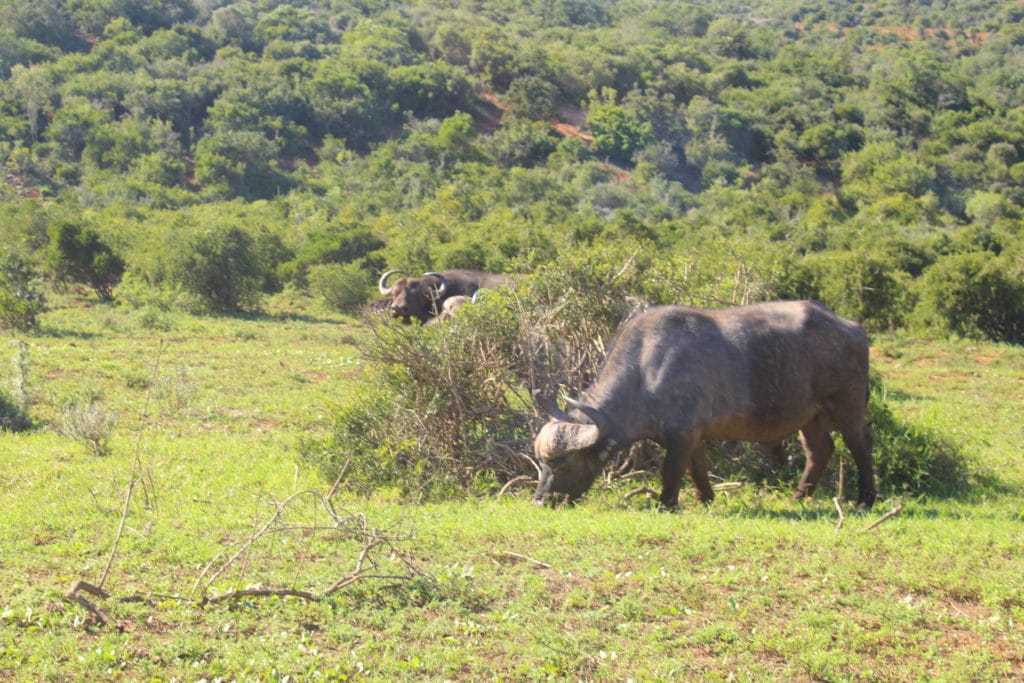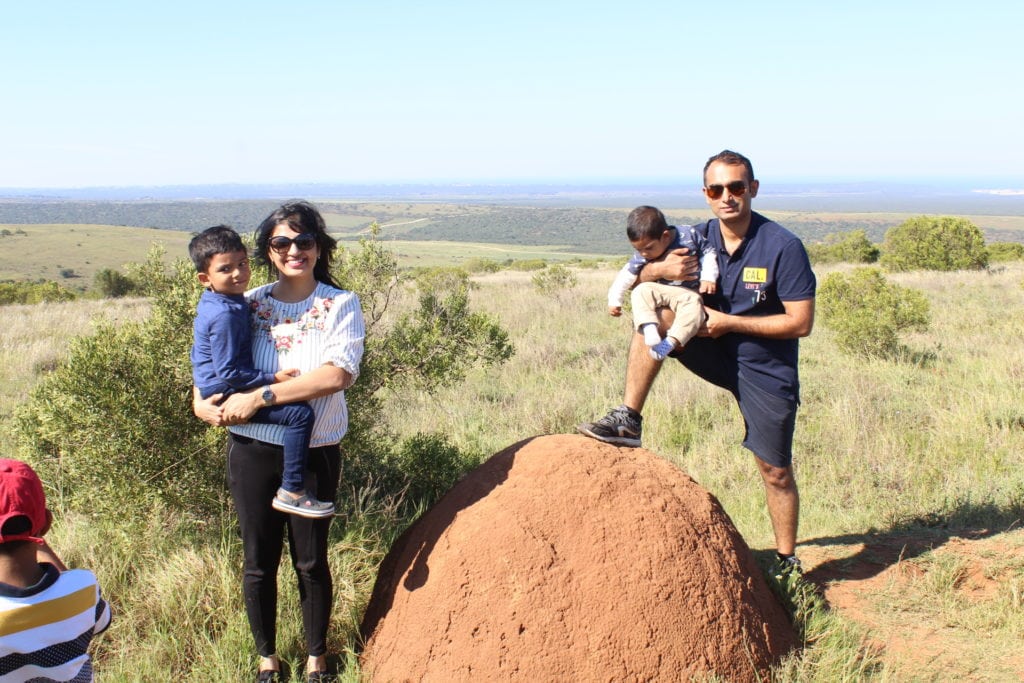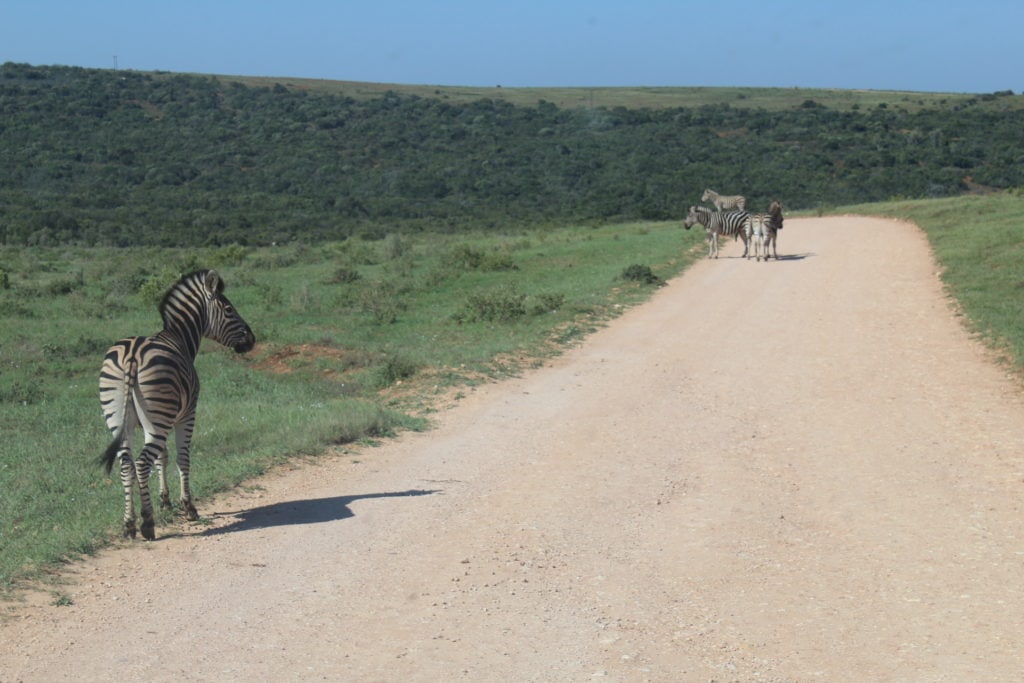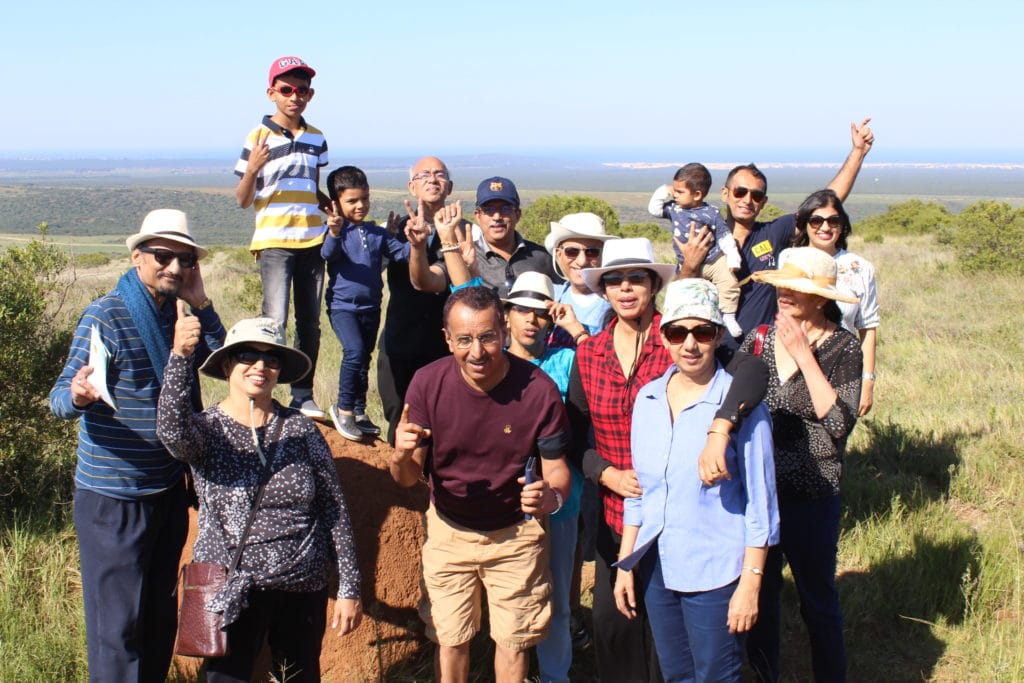 Cape Town
If not for the wedding functions of my dearest cousin, I would've stated that Cape Town was the best part of our SA trip. Cape Town is a complete package for all types of travelers and offers a plethora of nature-related attractions as well as urban tastes. However, it is important to remember that South Africa has unpredictable weather conditions and it may jeopardize your travel plans without any notice. The major attractions in Cape town are Robben Island, Table Mountain, V & A Waterfront area, Vineyards and wine tours, Kristenbosch Botanical Garden, Heart of Cape Museum and Cape Point tour.
Robben Island
Robben Island was used as an isolation centre for political prisoners, especially during the apartheid regimes. It presently hosts museums and isolation cells including the maximum security prison cell of Nelson Mandela. Access to the island is through ferry services which cast off from the V & A Waterfront area, and there will be a guide for the tours (three times daily : 0900, 1100, 1300) lasting 3-4 hours. Our tour for the first day got cancelled and then we booked again for the second day and even that got cancelled due to weather conditions and we finally ended up not going to this historic location. This was happening for the second time for one of my uncles in the group and he was really sad for not getting to visit the island even after his two trips to South Africa. Therefore it is strictly advised to book the Robben Island trip for the first day your itinerary so that you have enough time to reschedule if required. The tickets are 100% refundable in case of cancellation. It costed us ZAR 350 per adult and ZAR 200 per child (above 2yrs). Also, book the tickets well in advance as they may get sold out soon, being the most sought after tourist attraction in Cape Town.
Table Mountain
Table Mountain is one of the most famous and most visited sites in Cape Town and it is also a world heritage site. It is part of the table mountain national park which includes a vary large area in the southern cape region. You can either take a cable way or trek your way up the mountain. Once you reach the top, there are a couple of trails that might take you around 40 mins – one hour to complete. It gives you a spectacular view of Cape Town city and its beaches and of the sea with the rocky cliffs. There is a café (where you would get snacks also) and a toilet on top. I would suggest that you should spend at least two hours there and enjoy the scenic beauty. The tickets for cableway costed us ZAR 330 per adult and ZAR 165 per child. However, again our first day tickets had to be rescheduled due to weather conditions.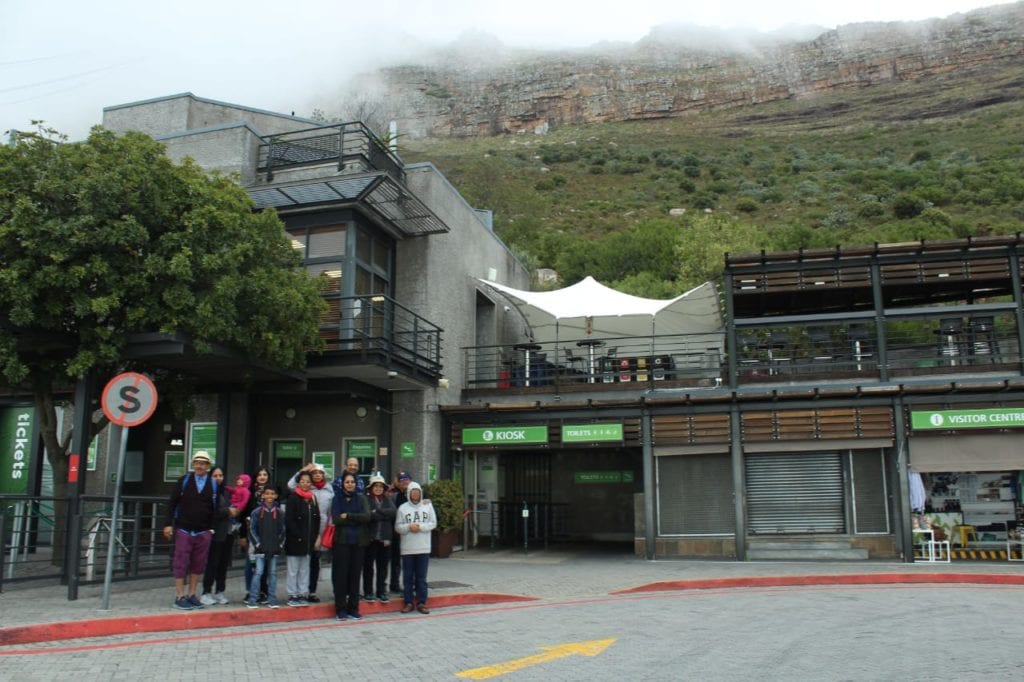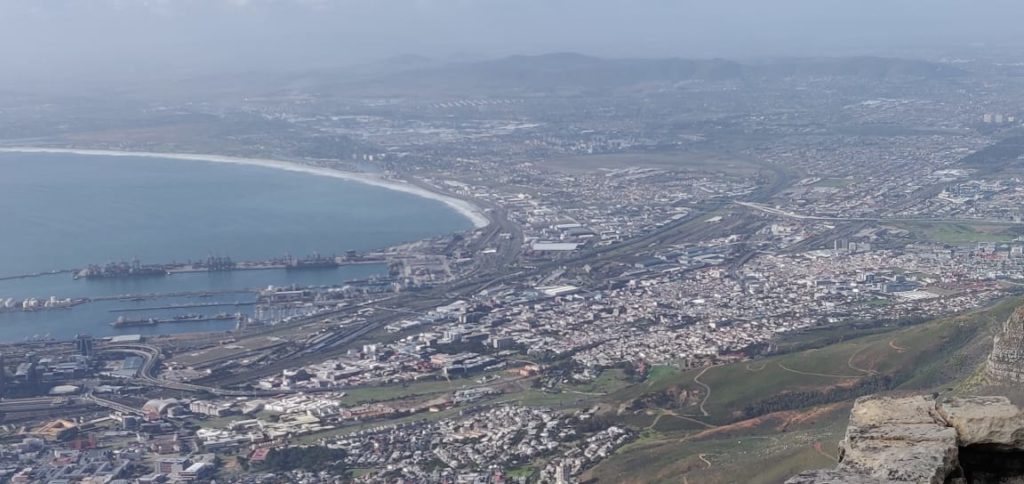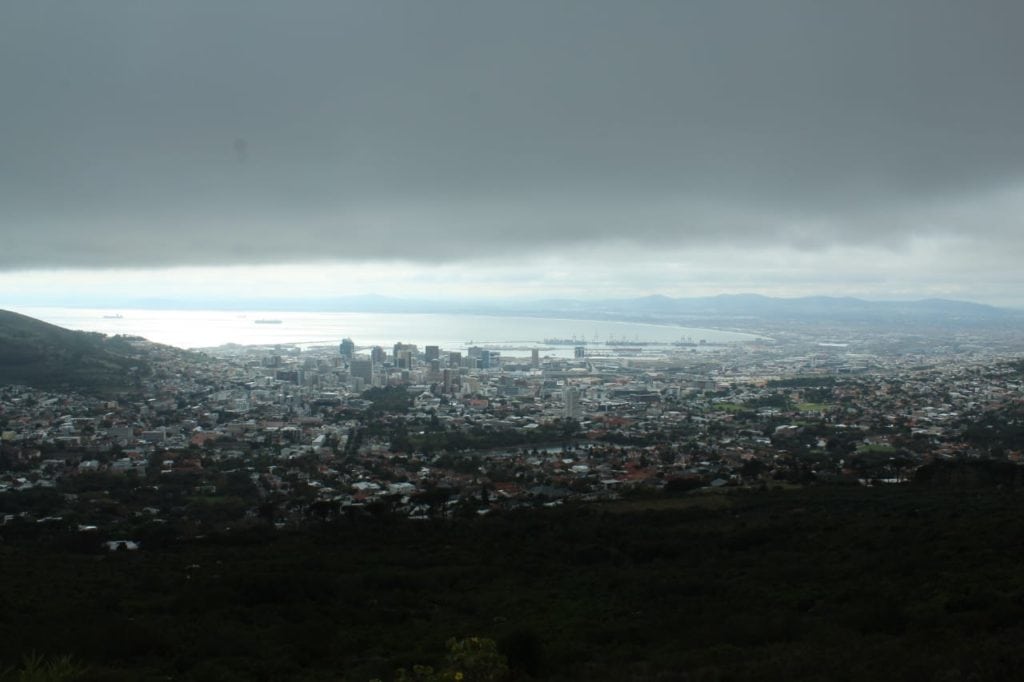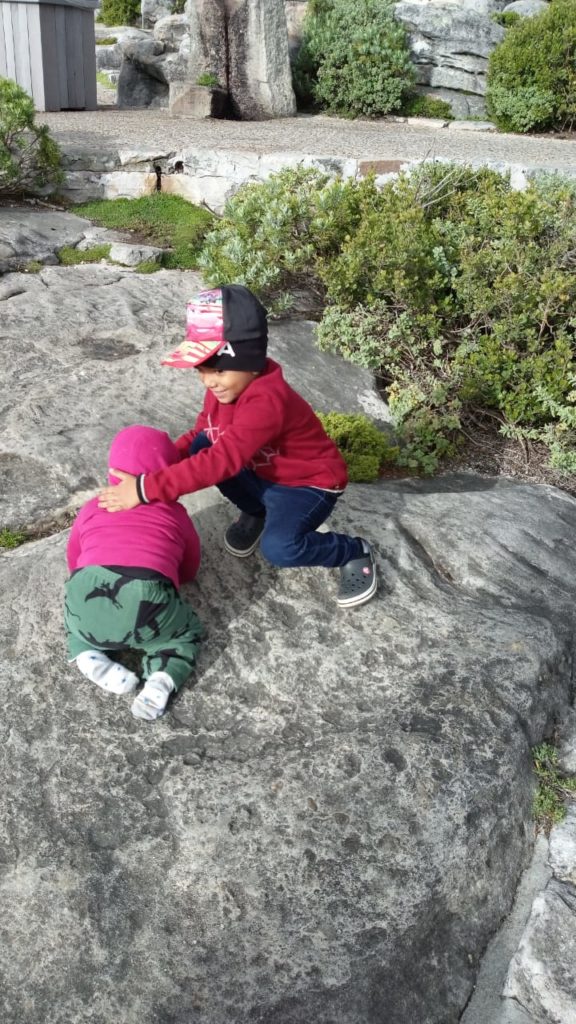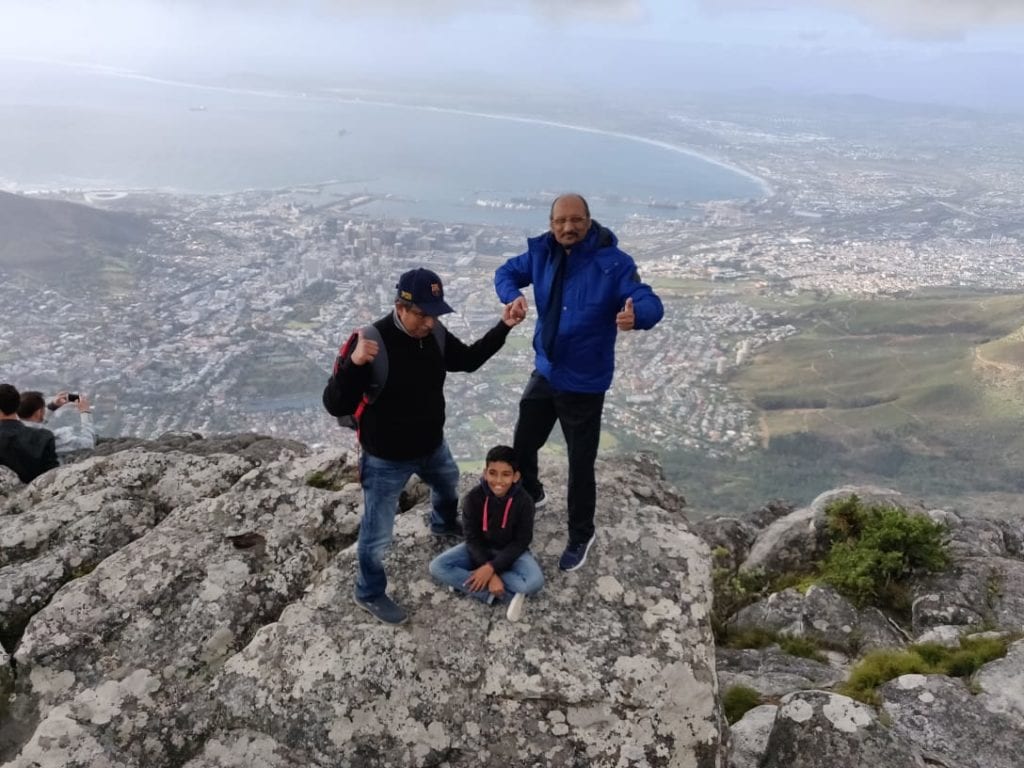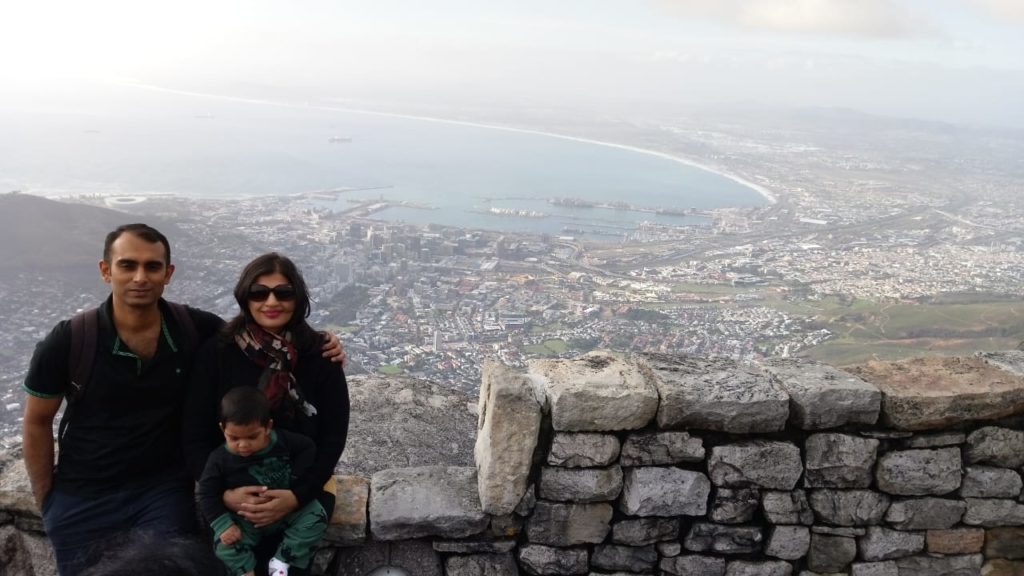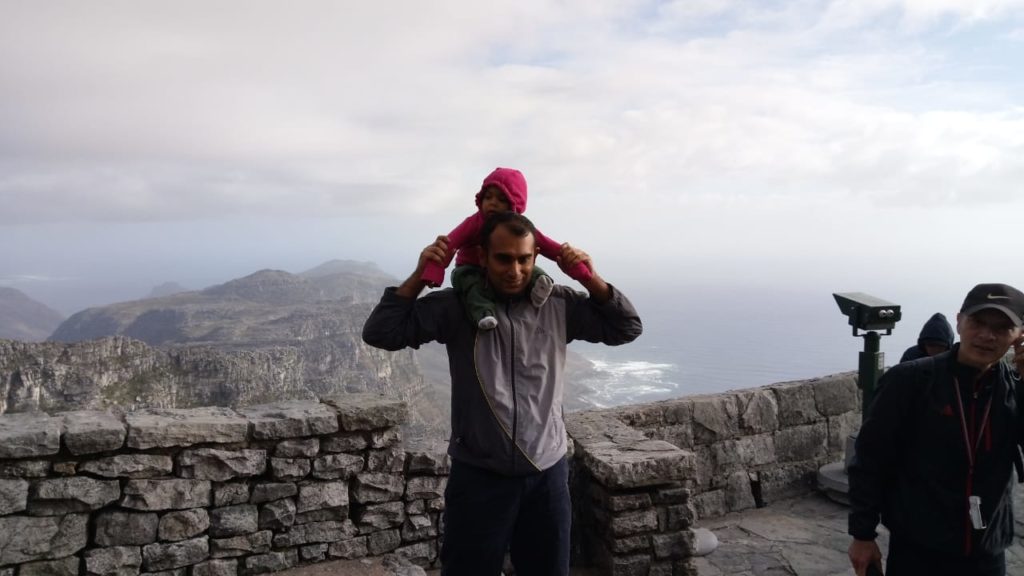 Heart of Cape Museum
The Heart of Cape Museum is a Dr. Christian Bernad and all others who were part of the world's first-ever heart transplantation surgery performed in the Groote Schuur Hospital. One of my uncles in the group was the first person to do such a surgery in the state of Kerala in India and hence it was an unmissable visit for the group!! It is situated within the premises of Groote Schuur Hospital and the tours (info@heartofcapetown.co.za) include a movie show also regarding Dr Bernad's life and work. The tours are scheduled four times a day (around 2 hours each) and cost ZAR 350 per person. It was a very important event for all the doctors in our group, though I personally missed it.
Wine Yards
South Africa is famous for its wines and that makes it all the more interesting to check out the vineyards and wine estates in and around Cape Town. The towns of Stellenbosch, Franschhoek, and Paarl provide the best glimpses of the winemaking history and traditions of Cape Town, where there are numerous wine yards and wine estates with wine tasting tours and organic restaurants. I can still not forget the taste of the lunch we had in one of the wine estates with all the local organic produce. It was simply marvelous. They are the outskirts of the city and the drive itself is an amazing experience. I also remember the guide showing us a museum on the way that houses the sail ships, The Black Pearl and The Flying Dutchman from the movie Pirates of The Carribean. The wine tours are not so expensive, but I would again suggest spending at least a whole long afternoon for these tours.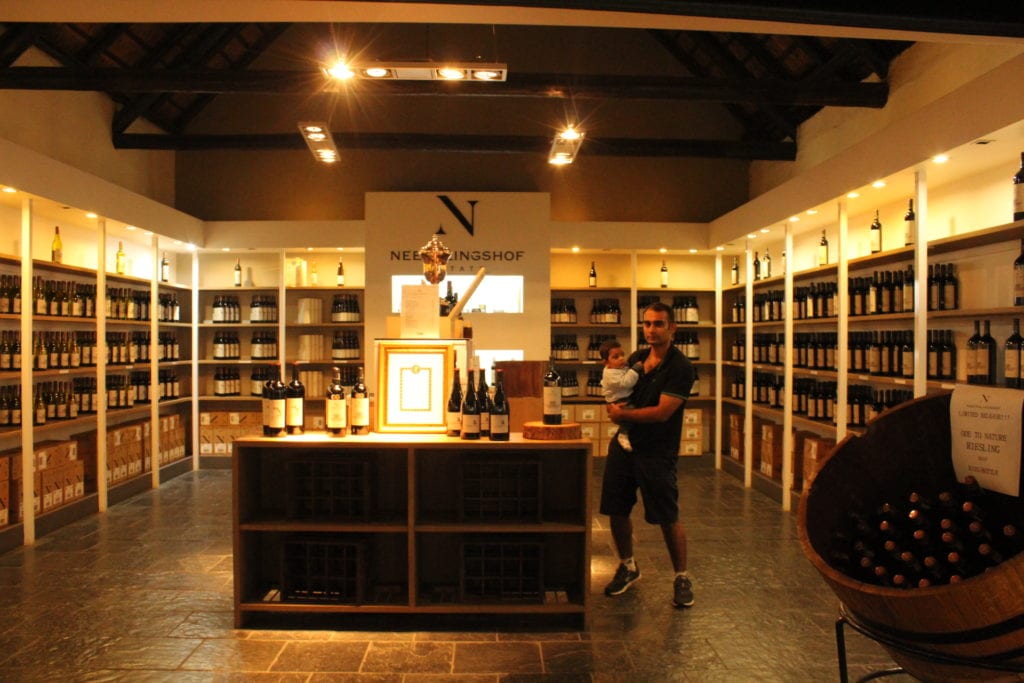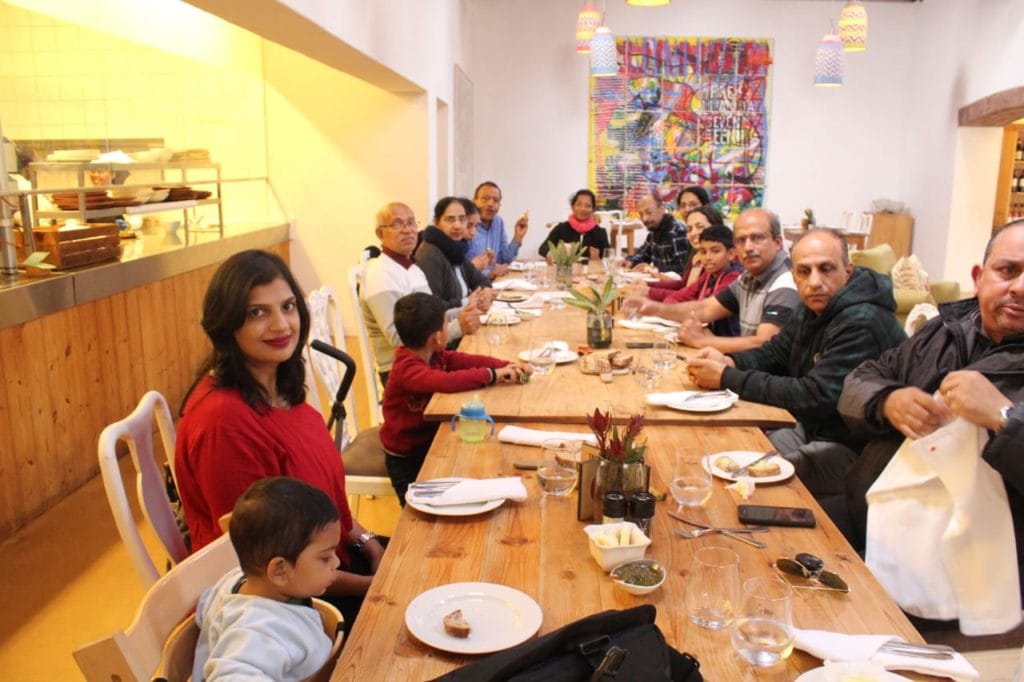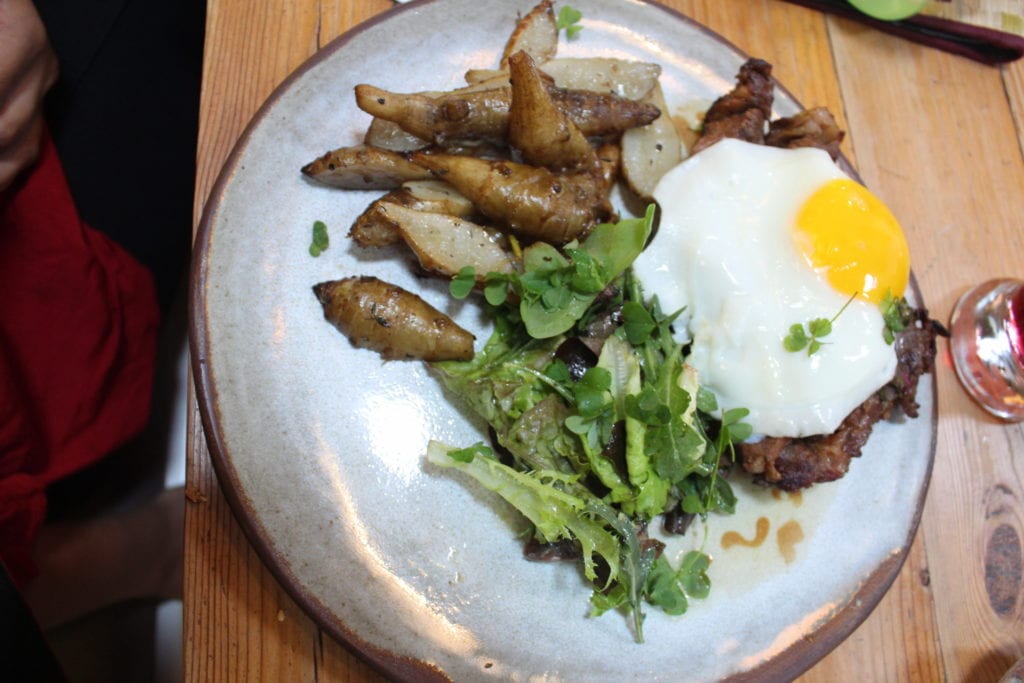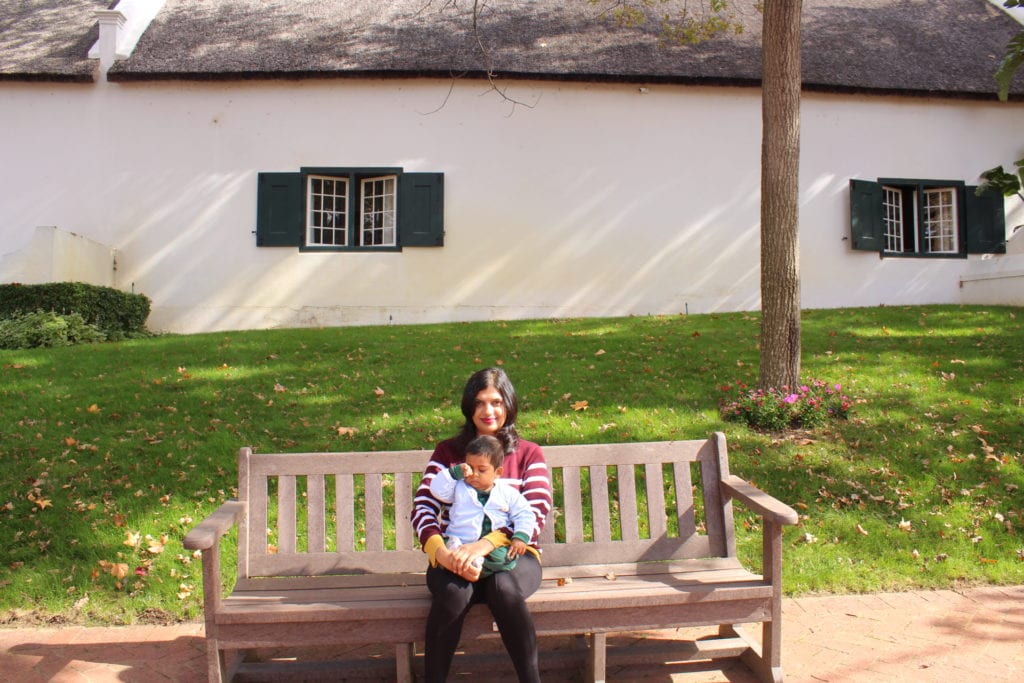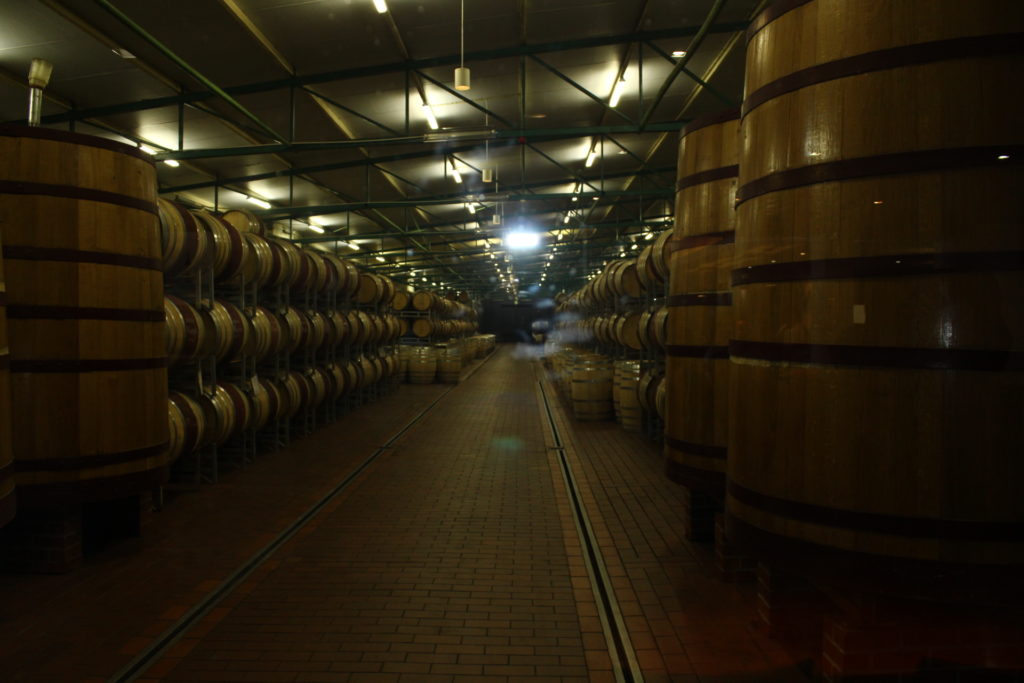 V & A Waterfront
Victoria and Alfred Waterfront Area, commonly known as the V & A Waterfront, is a 300 acre area developed and completed in 2017 housing over 450 outlets and a working harbor. It's a posh area and I would suggest, a great place to spend your evenings. There is a huge mall for shopping and lots of restaurants and pubs. There is a children's play area (free entry) where you can let your kid spend some time with children all around the world and the Cape Wheel, a giant observation wheel with 40 cabins, and also a lot more activities for children. We have ourselves gone there around 4 times with the kids and I would still go again if I get a chance. Eating around in the place would get a little costly affair unless you choose wisely. The best option would be the V & A food market which houses a variety of food outlets with common seating spread around the place. You can also grab the food and have them while you walk around. There is a canal cruise and a seal & harbor cruise which has hop-on hop-of tickets which are valid for the whole day (if I remember correctly, both are around ZAR 50 per head), with commentaries available in around 16 languages.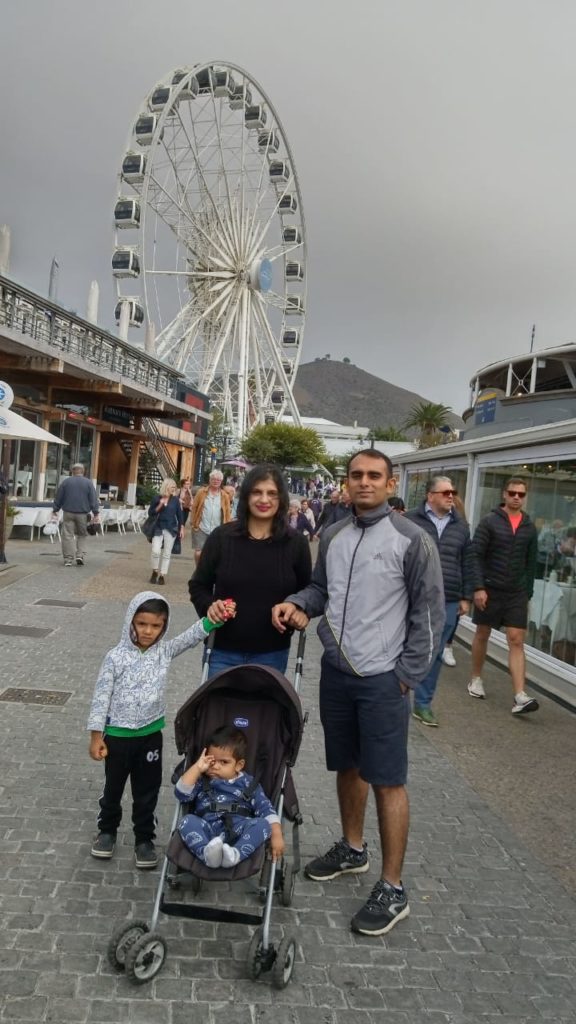 Cape Point Tour
Now, coming to the highlight of the whole trip, the Cape Point tour is simply mind-blowing and makes you forget everything else in your life. We went on a one day trip and it was probably the most beautiful day in my life. The tour typically includes a day trip including the Twelve Apostles Peak, Hout's Bay, Chapman's Peak, Cape of Good Hope, Boulder's Beach and Simon's Town and believe me when I say that each of these locations would prove to be a great hang-out by itself..!! The first three locations are known for their  scenic beauty and Cape of Good Hope is not just simply the beauty, but also history and traditions and the gift of nature woven together. When you go to Cape Point, you enter the Cape Point Nature Reserve which is rich in flora and fauna including birds like oystercatcher, cormorant ostriches and the endangered and rare Afrikaans Coastal land Penguins. Entrance fees are ZAR 303 per adult and ZAR 152 per child. The species of mammalian animals include Leopards, Spotted Hyenas, Black Backed Jackal, elan, mountain zebra and bontebok. After entering the Cape Point Nature Reserve, you ought to visit two major locations which are the Cape of Good Hope and the Cape Point. Cape Point is a promontory at the southeast corner of the Cape Peninsula, which is a mountainous and scenic landform that runs north-south for about thirty kilometres at the extreme southwestern tip of the African continent. You may reach there by a funicular, and you will find a souvenir shop on top (if you are a philatelist, you will love it as they have some good collection of stamps). The tides at Cape of Good Hope are very high and even at low tide, they reach a height of two metres and the winds there extremely strong. You can also climb up the small hill at that location to achieve a higher level of Nirvana!!!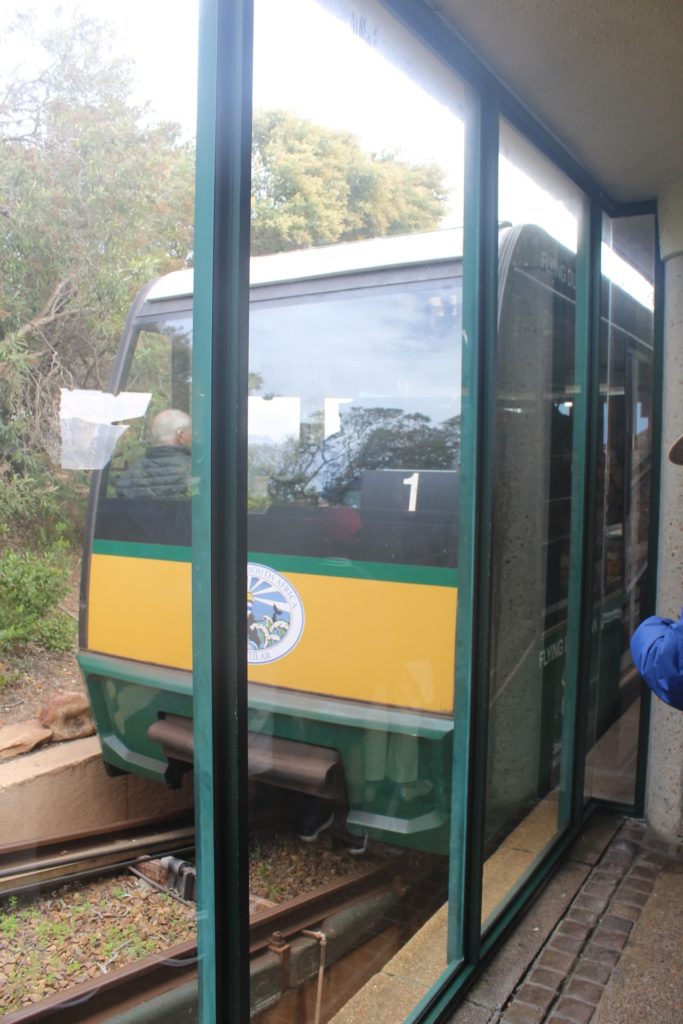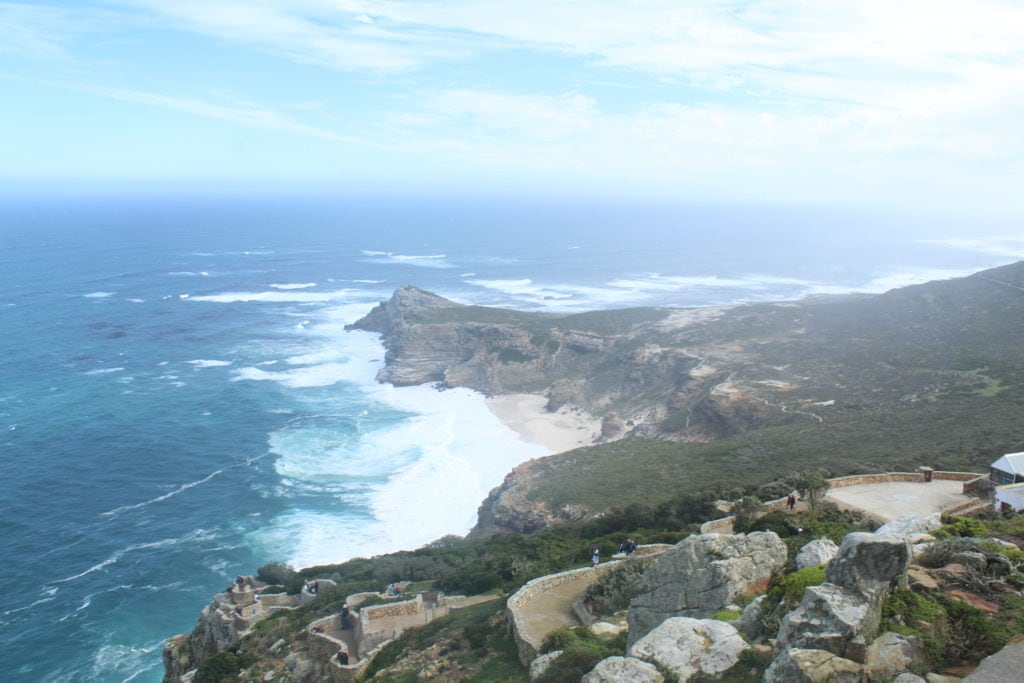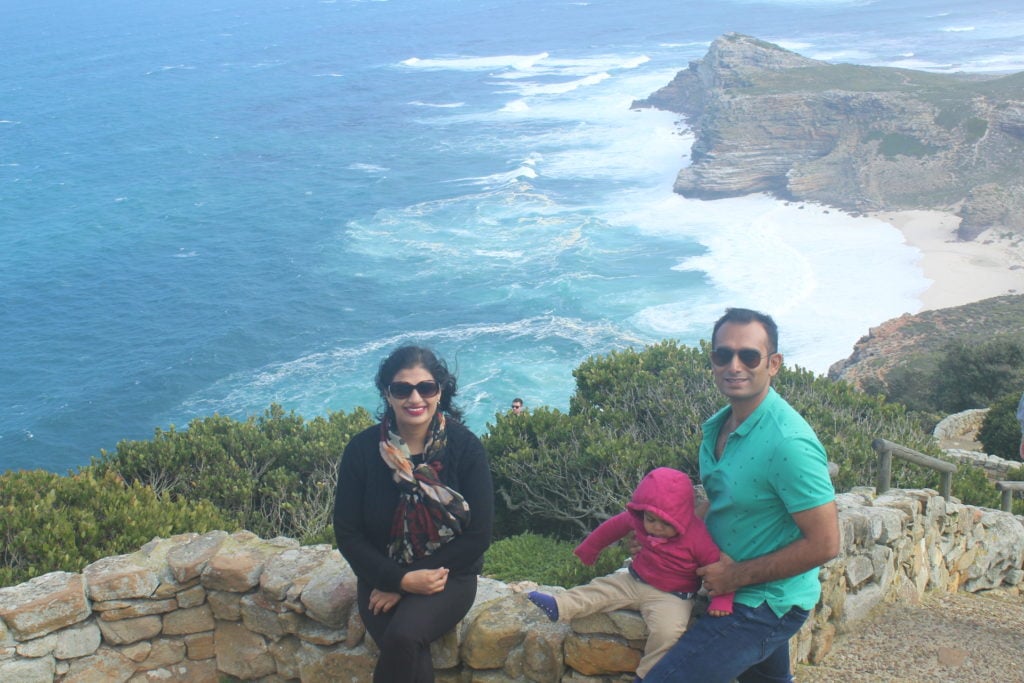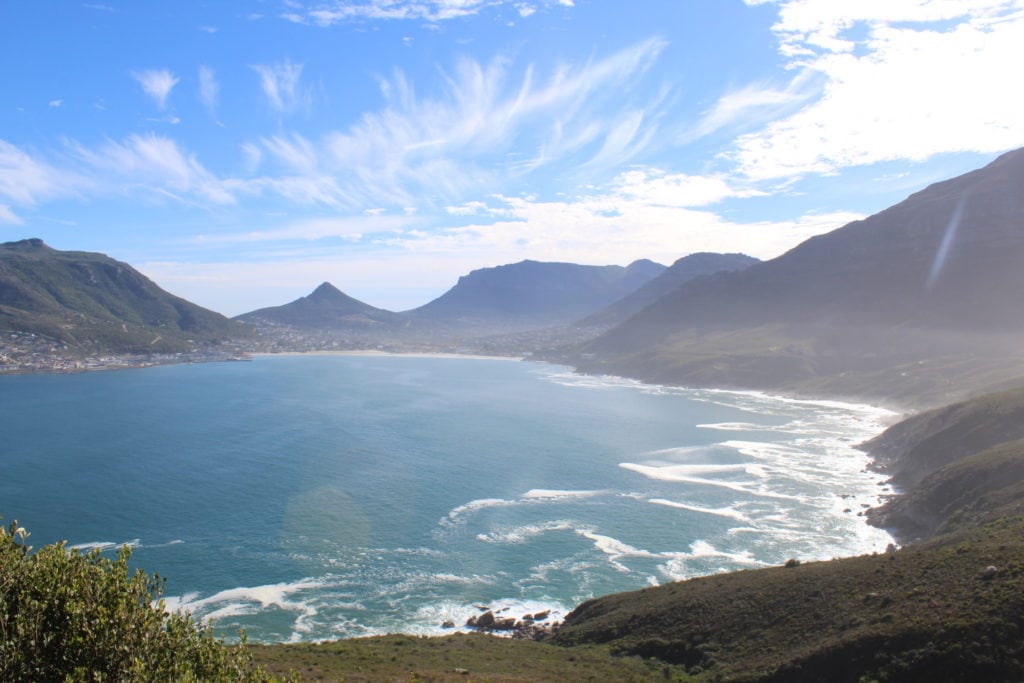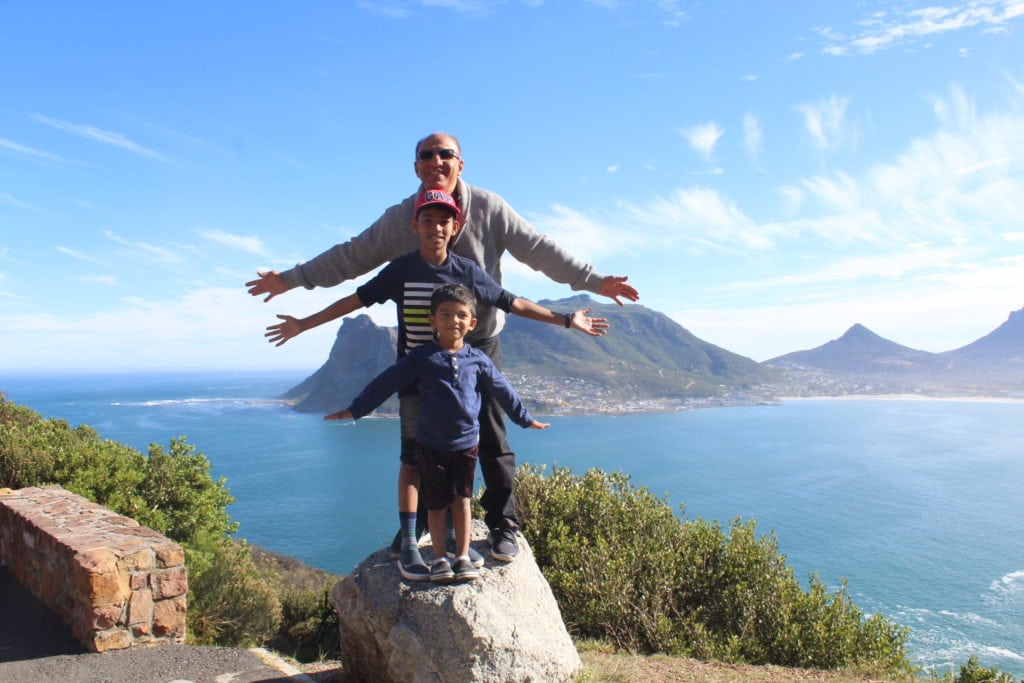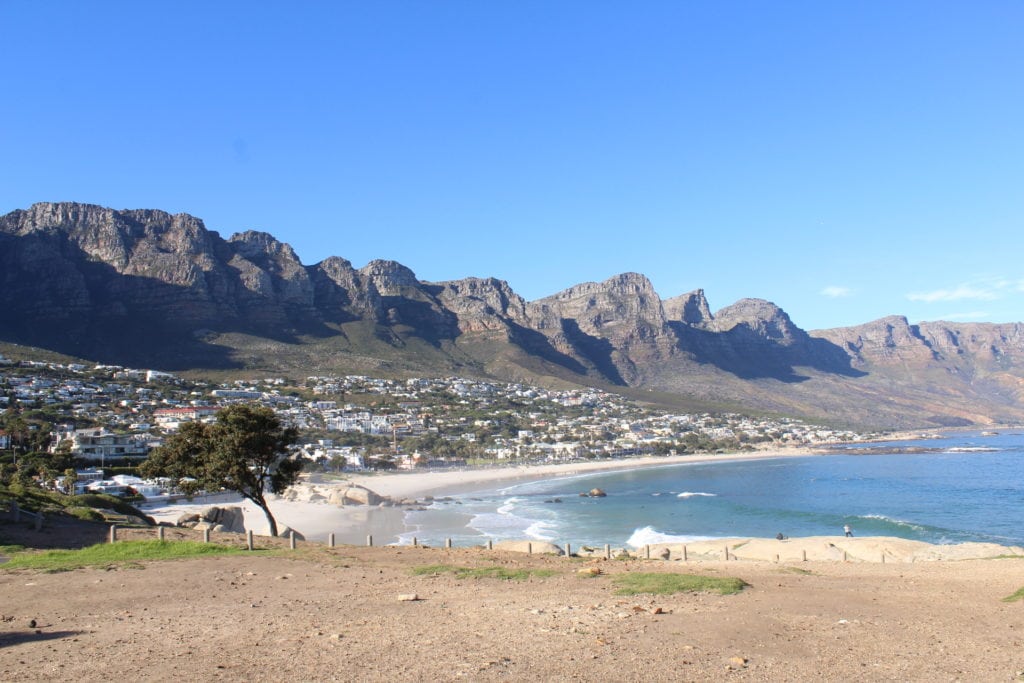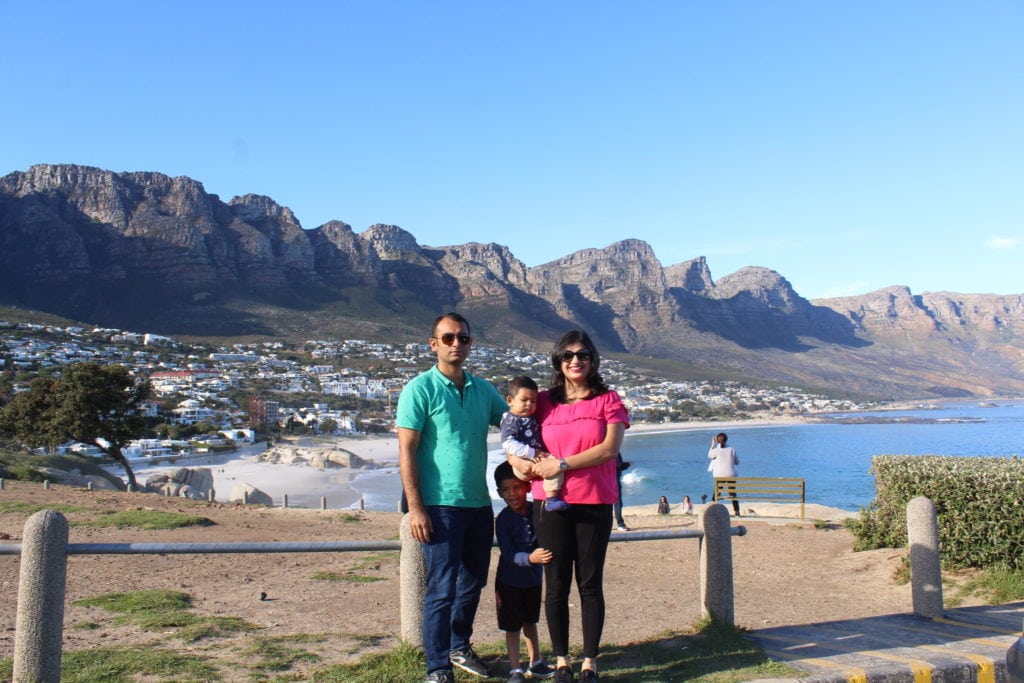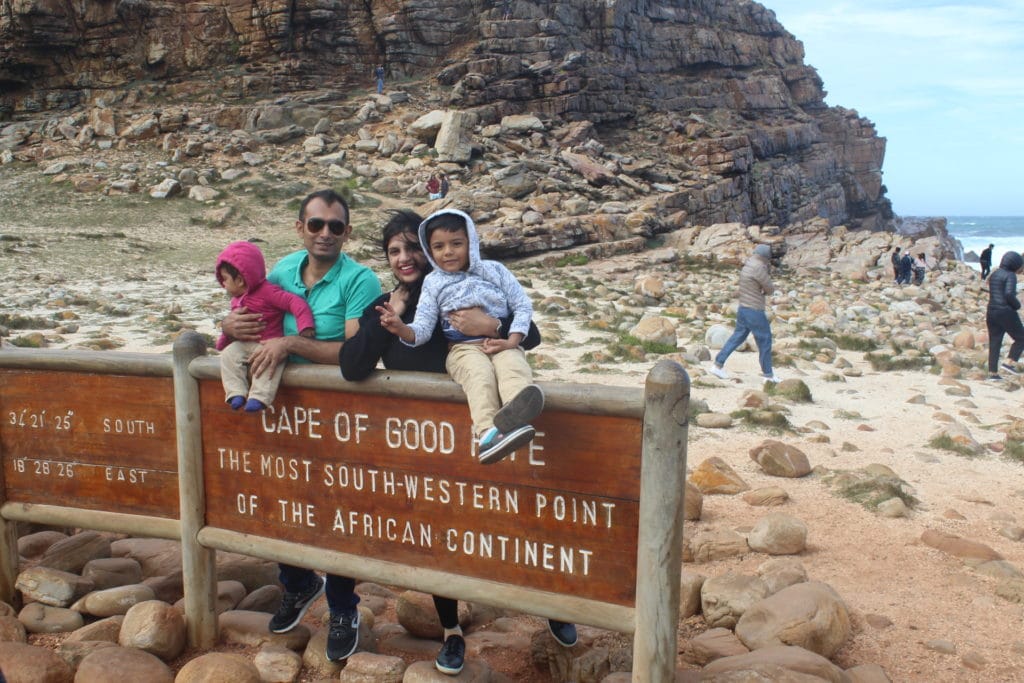 Boulder's beach
It is that place where you get to walk through the natural habitat of African Penguins and it will actually blow your mind off (it costed us only  ZAR 76 per adult). It is a must visit if you are going with kids and they will love it like heaven.. But what you should be aware of is that there is a beach adjacent to it in which you can actually walk along with the penguins, free of cost and it is not restricting you from actually sharing the space with them!! (unlike the commericalised Boulder's beach, photos of which are posted in this blog). However, no authorized guide would take you there and you have to really ask around to find that place. Another good thing about Boulders beach is that you get cheap souvenirs at parking space, which is way too cheaper than the rates at Cape Town (will talk about it later). Simons Town is an old town established for the South African Navy, a small but beautiful town and you will love spending time there.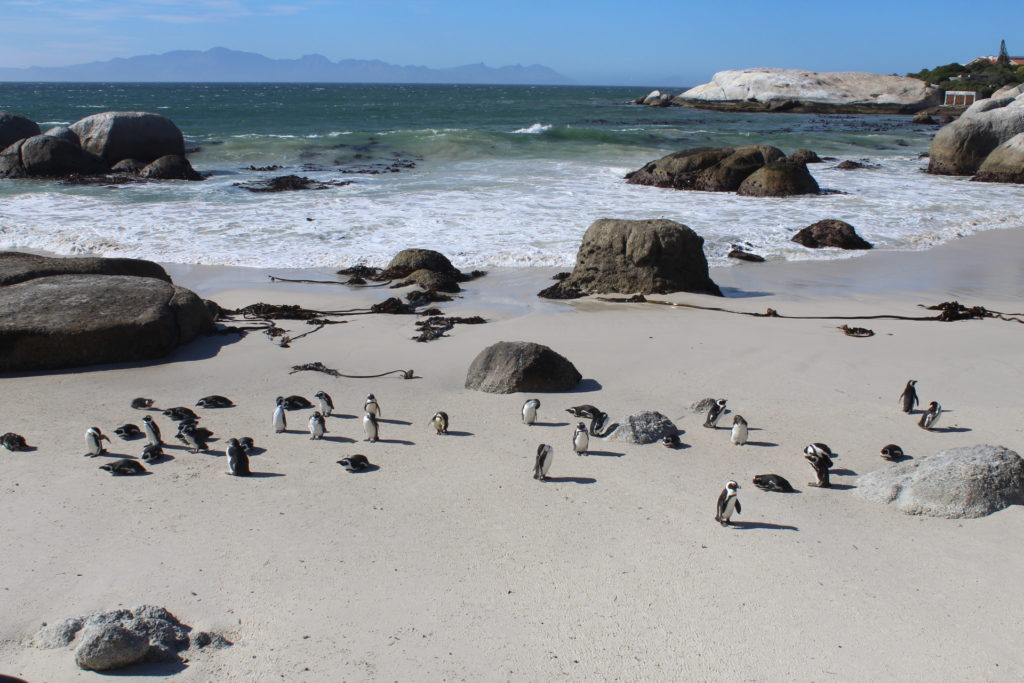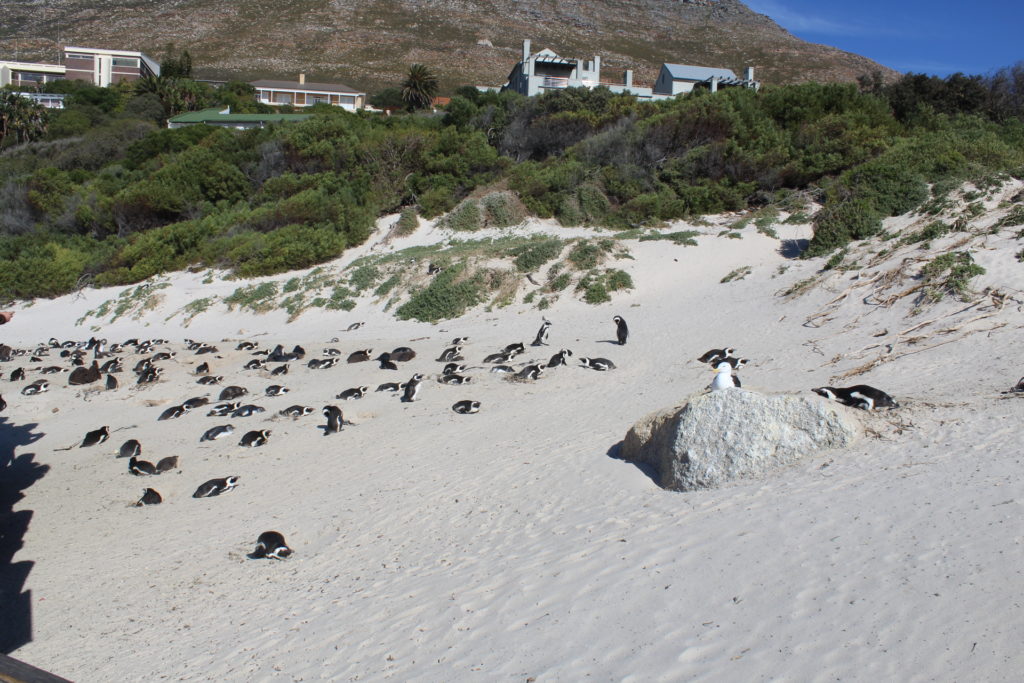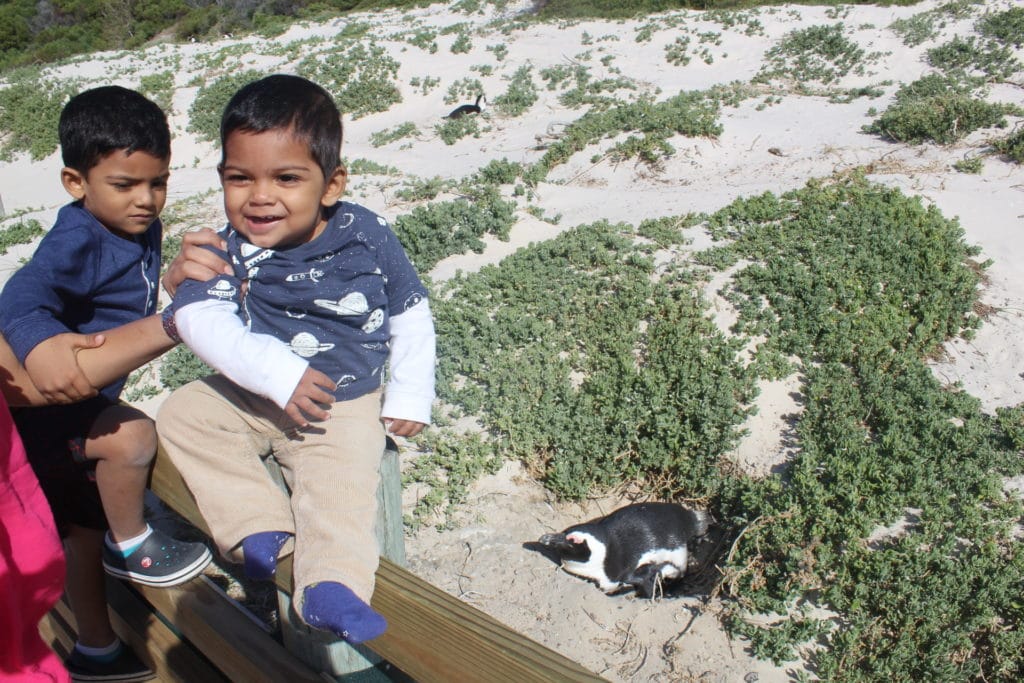 Another great place we visited during our Cape Point tour is the Cape Point Ostrich Farm (http://capepointostrichfarm.com/), a must visit farm. There are numerous ostriches, some emus, horses, tortoises and so on. They have a guided tour also (I think its ZAR 40 per adult), which we did not take. We had primarily gone there for having lunch at their restaurant named Hatchery, but we ended up having a great time there with all the animals around and never wanted to leave the place. The restaurant serves ostrich meat as steaks and burgers and they were both tasty and were softer than chicken meat. At the farm you can actually feed the ostriches yourself, buying the feed for a nominal cost of ZAR 5. It's a wonderful experience to feel the ostriches eating from your hand and even kids can do it with some supervision. I would strongly recommend the place.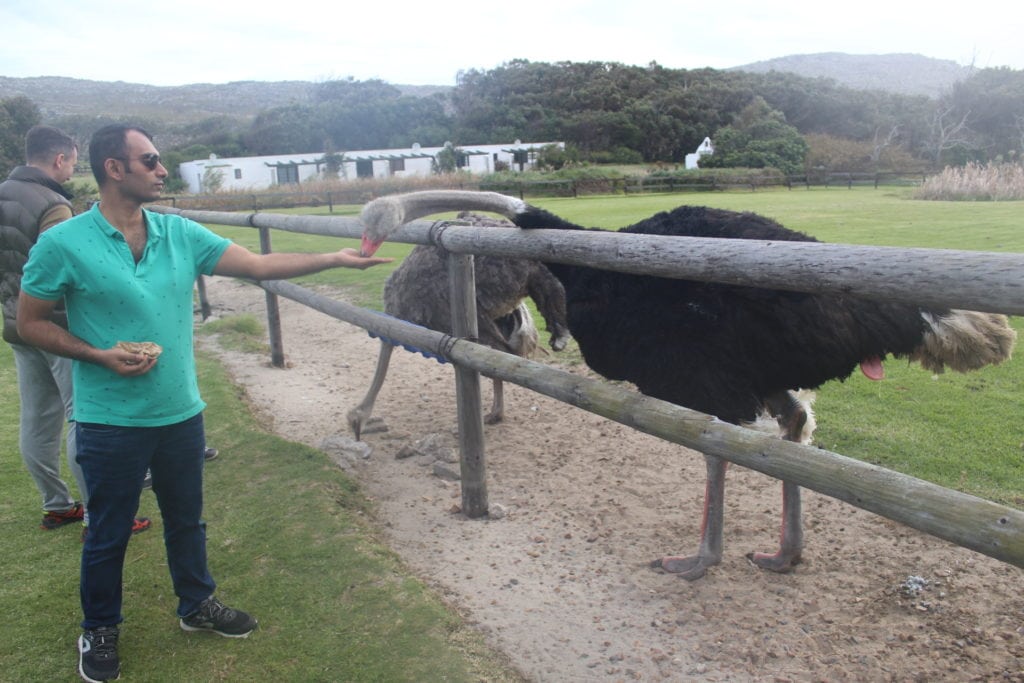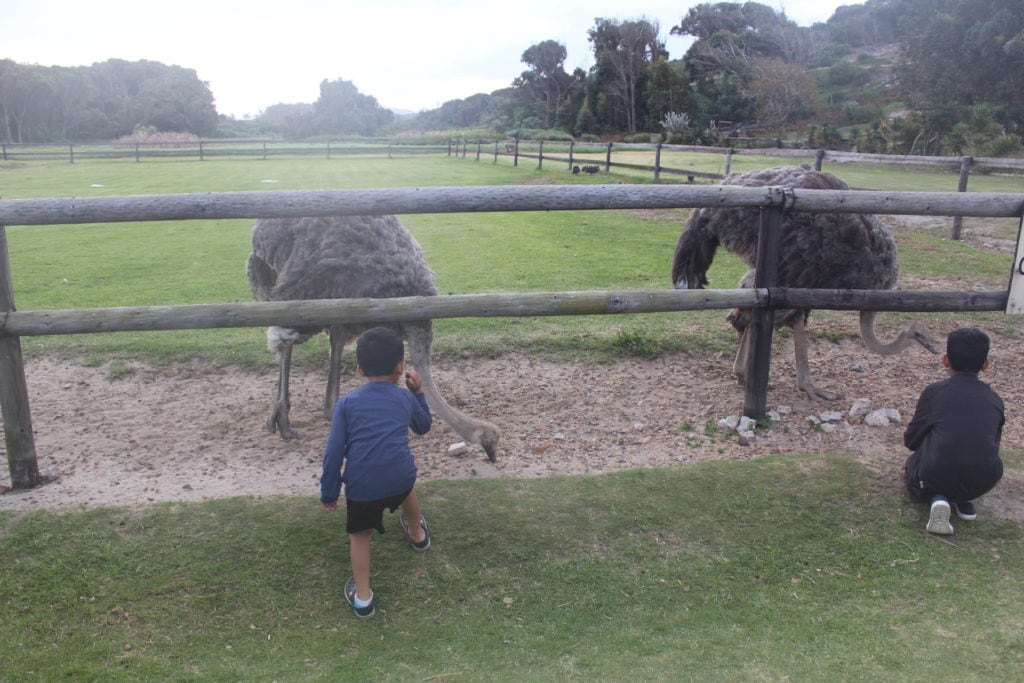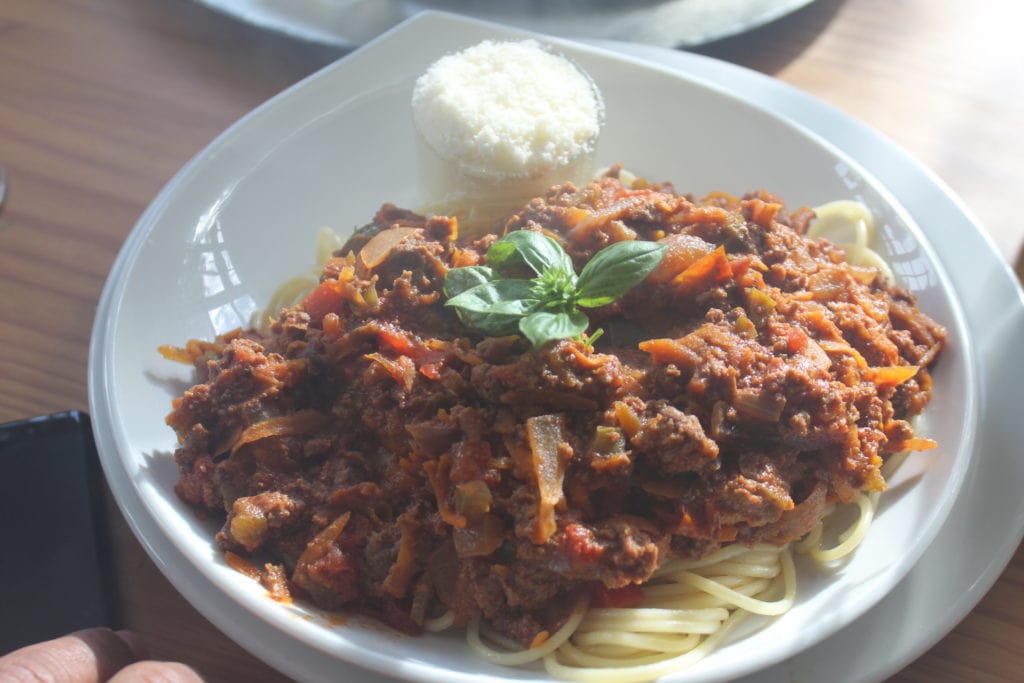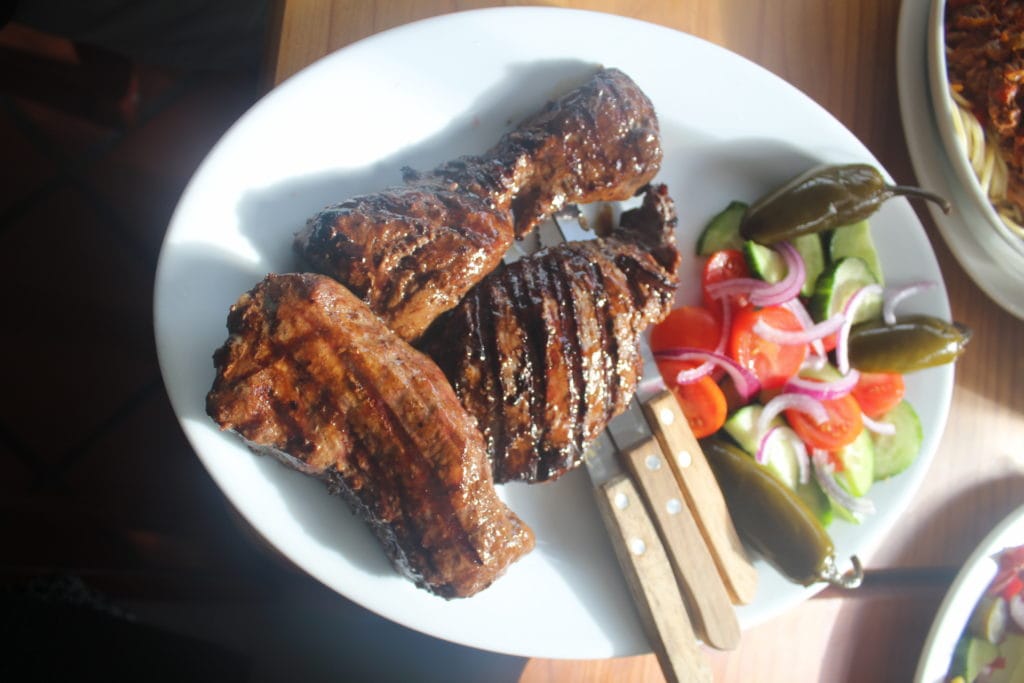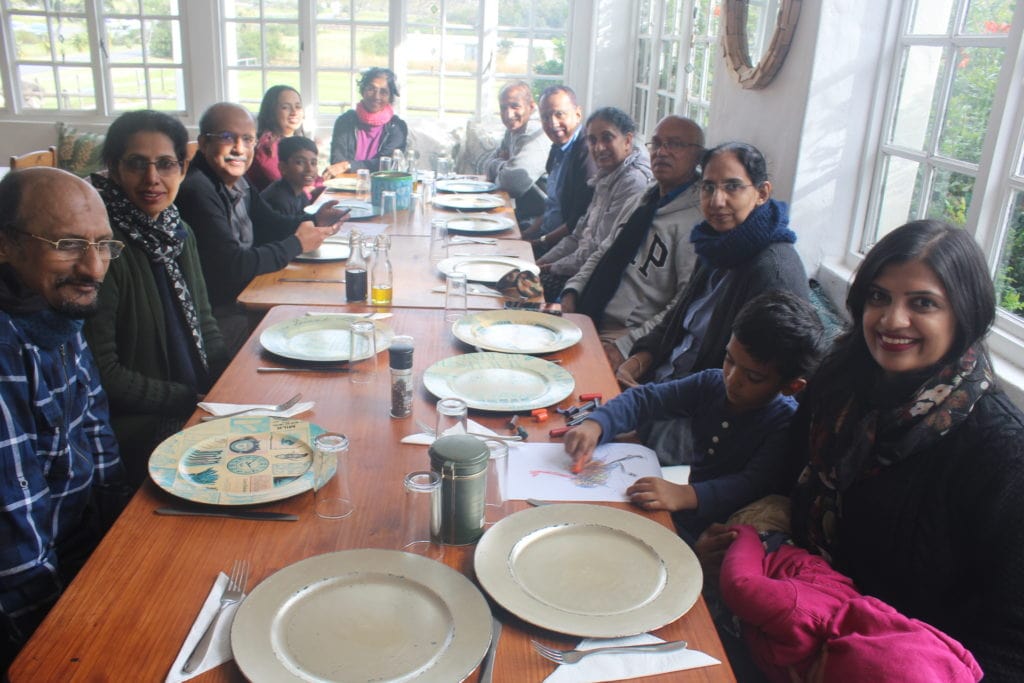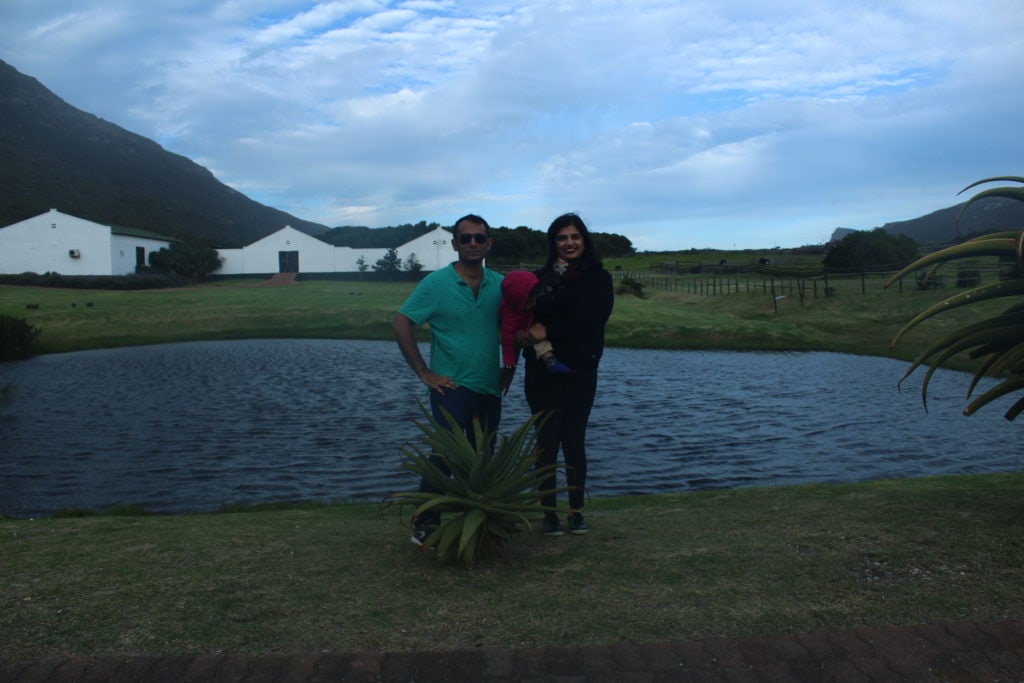 Some Useful Tips for SA travel
Getting Around
Getting around in most of the towns or cities in SA is only possible on road. There is hardly any public transport and you need to hire a cab or avail the services of rental cars. As mentioned earlier, you need to be in possession of a driving license, which is written in English. Uber is very useful in all the cities and it's not so costly compared to Europe, and very much comparable to the rates in India. We were a group of 13 and we had hired a travel agent with a 13-seater Toyota Quantum and it worked out great for us.
Shopping
Souvenir shopping is of course an integral part of an African trip and a little awareness can let you save a lot. No doubt ostrich eggs are the must-buy souvenirs from SA, but they may cost as much as ZAR 700 at the shops (I would say ZAR 300 would be a reasonable price). But the costs vary very much across locations. The cheapest we could find were at Boulders Beach and Cape Point Nature Reserve road-side, where they were costing as low as ZAR 120. But you will need to pack them yourself if you are buying from road-side vendors unlike when you buy it from a shop where they generally pack it well. Fridge magnets were around ZAR 20-30 at the Boulders Beach and Cape Point souvenir shops and those were the cheapest we could find.
Weather
The weather in most of the cities in SA, especially in the places we had visited, can change within any time and you need to be prepared for the same. You need to have jackets for sure and preferably umbrellas also.
Eat and Drink
I have experienced that eating outside in SA does not provide as much budget options as Europe. But on the flipside, where else would you get to try game meat like Zebra, Warthog, Springbok, Kudu, Gemsbok etc. There is no free drinking water in SA like most European cities and hence I would advice to buy 5/10 litre water bottles and small ones for your outings. Now comes the best part, liquor is dirt cheap in SA, especially if you are going from India. A bottle of Jack Daniel would be around ZAR 200 only. Also, you wouldn't want to miss out on the variety of South African wines. And one more good-to-know thing is that liquor is cheaper outside compared to the duty free shops in the airports.
Air Travel
Air travel within SA is not so costly, with Kulula, SAFAir, Mango etc giving low rates of domestic travel. I have also noticed that the international flight tickets to Cape Town are costlier than Johannessburg, and hence if you are not very strict on duration of travel, it is not a bad idea to fly in to JBurg and then take a domestic flight to Cape Town. The only part that I didn't like in SA is Cape Town airport which has no baby feeding rooms and no free drinking water!! When you are flying out of the country, and if you are taking with you, goods those which were bought but not consumed in SA, you are eligible for VAT refund on the amount you paid. You need to visit the VAT refund counters in the airport (which is before check in) and you are bound to produce the item to the inspecting officer for claiming the refund. You would receive the refund in ZAR or USD if the total refund is below ZAR 300 and if it is above ZAR 300, you would be given a card which will be credited with the equivalent amount after four months only.
That's all the information I wanted to include from my experiences during the best trip of my life. Hope it would be useful for all those who are planning to go. The itinerary that I would propose would be (excluding Kruger, which I skipped as I was traveling with kids) as below:
Johannessburg (1 night): Lion & Safari Park –
Fly to Port Elizabeth (2 nights): Addo Elephant National Park and other attractions in the city –
By Road along the garden route : one night each at Knysna and George (Ostrich ride)
By Road to Cape Town (at least 5 nights)