This is undoubtedly one of the beautiful places I have been and I recommend this to anyone who loves a get away from the city and enjoy being on their foot,exploring the beauty of the nature! Next to this multi-peaked mountain situated a beautiful Benedictine Abbey, home of the world-famous statue of Virgin of Montserrat.I don't need to explain how much I fell in love with this place because I am sure when you see the pictures, they will speak for themselves!
How to reach Montserrat from Barcelona.
Montserrat is a multi-peaked mountain located 65km away from  the city of Barcelona, in Catalonia, Spain. The main peaks are Sant Jeroni (1,236 metres), Montgrós (1,120 metres) and Miranda de les Agulles (903 metres). There is an island in the Caribbean named after this mountain Montserrat by Christopher Columbus.
Montserrat is almost 65 Km from Barcelona city which promises some awesome panoramic views. If you are visiting Barcelona , you can easily do a one-day trip to Montserrat from Barcelona city.
By Train to Montserrat
You can travel to monteserrat by train from "Pl. Espanya" station (near Plaça d'Espanya ) . you can get to this station using L1,L3 or L8 lines from any metro stations. Once you are at the Pl.Espanya station,look for line R5 heading to "Manresa". There are two possible tickets you can purchase depening on whether you want to travel in a cable car or Rack railway( Cremallera Funicular) to the top of the montserrat . So make sure you purchase the right ticket.From Pl.espanya to the foot of the mountain will take almost 55 minutes. Mkae sure you take the correct ticket and get down at the correct station according to your ticket.
For Cable car : Take ticket and get down at Aeri Montserrat (This takes only 10 minutes but give awesome panoramic views)
For Rack railway: Take ticket and get down at Monistrol Montserrat
Adult Return ticket whether for cable car or rack railway will cost €20.20 at the time of writing this (Jan 2016). You can get the ticket from the ticket machine near the R5 line just close to the train .
Montserrat Museum
There is no charge to visit the  Monastery but if you wish to visit the museum there is an entrance fee of  €7.00.
Time table for Train towards Montserrat
| | | |
| --- | --- | --- |
| Barcelona | Arrival time at station: | Arrival time at station: |
| Pl. Espanya | Aeri Montserrat  (Cable Car) | Monistrol Montserrat(Rack Railway) |
| | | |
| 8:36 | 9:37 | 9:41 |
| 9:36 | 10:37 | 10:41 |
| 10:36 | 11:37 | 11:41 |
| 11:36 | 12:37 | 12:41 |
| 11:56 | 12:57 | 13:01 |
| 12:36 | 13:37 | 13:41 |
| 12:56 | 13:57 | 14:01 |
| 13:36 | 14:37 | 14:41 |
| 13:56 | 14:57 | 15:01 |
| 14:36 | 15:37 | 15:41 |
| 15:56 | 16:57 | 17:01 |
| 16:36 | 17:37 | 17:41 |
Return Journey back to Barcelona
| | | |
| --- | --- | --- |
| Departure time from station: Monistrol Montserrat(Rack Railway) | Departure time from Aeri-Montserrat station at foot of Montserrat mountain | Arrival time at Plaça EspanyaBarcelona |
| 9:41 | 9:45 | 10:45 |
| 11:41 | 11:45 | 12:45 |
| 12:41 | 12:45 | 13:45 |
| 13:41 | 13:45 | 14:45 |
| 14:41 | 14:45 | 15:45 |
| 15:41 | 15:45 | 16:45 |
| 16:41 | 16:45 | 17:45 |
| 17:41 | 17:45 | 18:45 |
| 18:41 | 18:45 | 19:45 |
Tickets: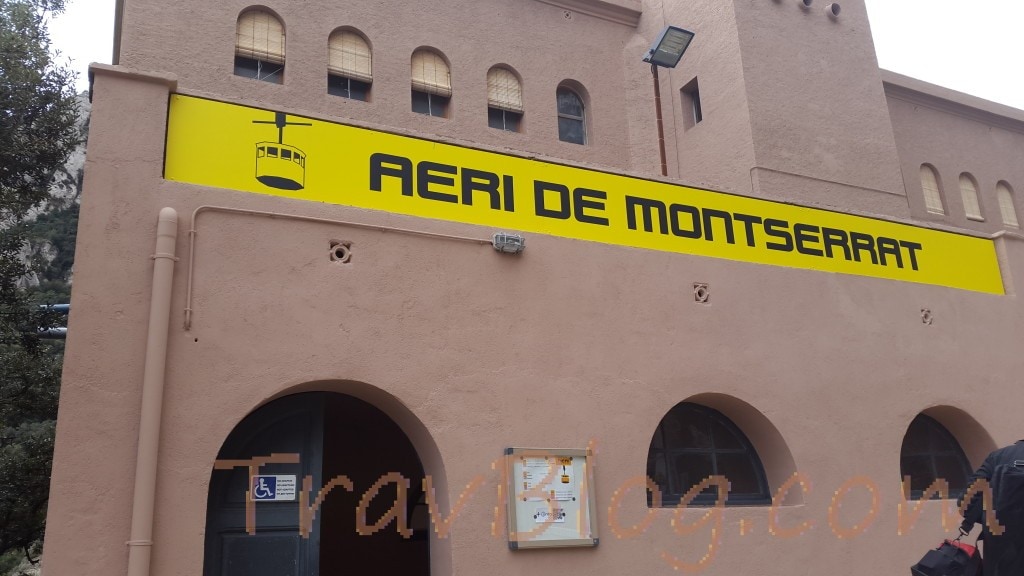 Pictures of Benedictine Abbey at the foot of Montserrat
So you are only half way through your adventure and there is a mountain to climb! you will the serrated peaks as you get here and I bet you cant wait to get to the top. There is a shop in front of the abbey where you can buy snacks and drinks. I strongly recommend you to get some fuel for yourself before you start climbing as it will take hours when you finally come down. Some people prefer to see the abbey afterwards, it really is your choice. Personally, I will base it on the sunshine as you will get amazing photographs of the peaks. Enough with the talking and enjoy the pictures 🙂