The Devils Punch Bowl is a large hollow of dry sandy health surrounded by the 894 feet Gibbet Hill, the second highest hill in Surrey. You might be wondering how this 'amphitheatre' shaped landscape got such an interesting name! The story goes like this: the Devil angered the God Thor by his mischievous actions by jumping back and forth, therefore to punish him Thor scooped up a huge handful of earth and threw this at the Devil, leaving the shape in the middle which looks like a Bowl. In reality, the Punch Bowl was formed due to a geological process called 'spring sapping'. Its something to do with erosion, layer of clay and water pressure ( sorry, not much of an idea, read more if interested). Apparently Devils Punch Bowl is the largest spring sapped valley in Britain!
I must admit, we have visited here early April, so the land still looks a bit dry and lifeless in the photos as it was just recovering from the cold days. It would have been a lot greener and pleasant if it was later time of the year.
Address: London Road, Hindhead, Surrey, GU26 6AB. By train: Haslemere station is 3 miles away. If arriving by bus get down at the Hindhead crossroads.
Entry: Free entry and its open during day light hours. To check the seasonal opening times, please go to National Trust website. There is a Cafe next to the entrance which is open 0900- 1600 (extended opening during summer).
Car parking: Make sure you have some coins ready for the car park, or you might be able to exchange cash from the cafe near by. We didn't have any cash when we visited, and it was not advertised that you could use the mobile car parking app called 'Ring Go'. The reference number is 8502 and search for the location as seen in the photo below.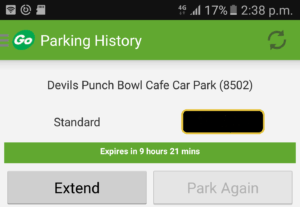 Other information
Waling Trails :There are 6 different walking trails of various steepness, intensity and scenery to choose from and they are as follows (distances are from the car park)
Sailor's Stroll (1.6km)    (easy walk)
Highcombe Hike (4.5km) (more demanding walk)
Hidden Hindhead Trail (5km) (demanding walk)
ROAM 639 Trail (10.28km) (more demanding walk)
Miss James' Walk (3km) (gentle walk)
Golden valley (3.2Km) (more demanding walk)
The map and the directions can be seen in the information board next to the car parking machine. You can also pick up an information leaflet from the entrance of the Cafe next to the car park.
Ideal place for dog walkers (keep the naughty ones on the lead as they can get very excited by the amount of space they get to run around), hikers, bird watchers and geologists 🙂
Fantastic picnic areas
Livestock may be present
Dress appropriately for the weather and wear sturdy footwear; some of the paths can be very uneven, muddy or steep
Food :There is a Cafe which sell home made cakes and sandwiches (see photo below)- Treat yourself after your walk. It also have Toilet facilities. Just outside the car park, there is also a Hotel and bar. And, there are shops in the town few minutes walk down the street.
For more info, visit National Trust website