Our guest blogger Anna is sharing some really useful information about travelling to Europe which she gathered from her last summer trip to Italy, France and Belgium. All the Information about pricing etc are valid at the time of writing. She travelled from India, therefore, some points are relevant to Indian tourists only such as attaining a Schengen VISA from India and cost of travel insurance etc.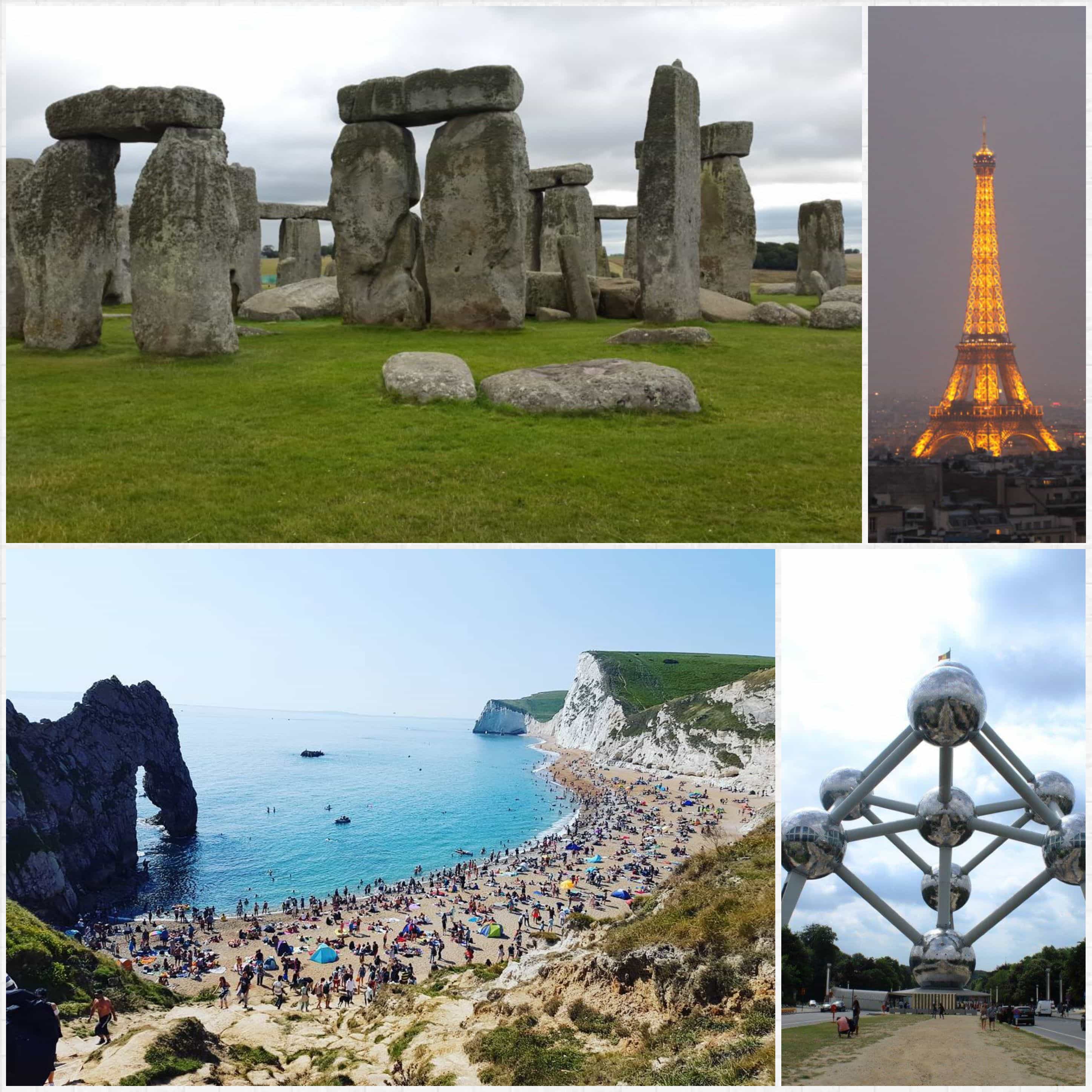 Air Travel
Air travel within European countries/cities are generally very cheap, with airlines like Easyjet, Aeroflot, Air France etc providing frequent flights. We flew from Venice Marco Polo airport to Paris Orly airport at a cost of 22€ per person, excluding luggage in Easyjet (in Jun 2017). One check-in baggage of 20kg costed us around 20€. For finding out cheaper flights, websites like skyscanner.com or kayak.com are useful.
Air travel to and from Europe can also be bought at reasonable rates if booked well in advance. In 2017, the rates for return tickets from India ranged between ₹40k-50k when booked 3-4 months in advance. But it's strictly advised not to keep checking the rates for the same route for the same dates frequently, as it might lead to surge in prices.
Train Travel
Train travel is very comfortable in Europe and all the long-distance trains are generally well maintained. The important thing about rail tickets are that there is dynamic pricing system throughout Europe. And generally the cost increases as you near the date of journey. So book tickets well in advance. I used voyages-sncf.com and italiarail.com respectively to book tickets for my train travels in Paris and in Rome/Florence/Venice.
Another relevant fact is that Europe has different train schedules as per seasons. For example the summer schedule, it starts from Jun of any given year. The schedule may be promulgated at any time that may range from Feb to May. The problem here is that if the summer schedule is promulgated only in May, then the costs would already be high owing to the dynamic pricing system. Also, you should be very frequent in checking the availability of tickets. So in short, if you intend for travel in Jun (or any month in which there is schedule change), then there is a good chance that you will end up paying more for the same route as compared to a travel in May. And you will not be able to book it well in advance.
And the most important thing is that youth tickets for those aged below 26 years is always cheaper as compared to the standard tickets!
Accommodation
Accommodation in Europe comes in many forms, starting from hostels to couch surfing to paying guests to hotels to BnBs.. In case you intend to cook, then BnBs with kitchens are preferable (we used AirBnB apartments with kitchen for all our stays in Rome, Florence, Venice and Paris). But make sure that you confirm from the host regarding the availability for basic stuff like utensils, salt n pepper, tea/coffee etc. Also, it's better to book an apartment that has a convenient store or supermarket within walking distance so that stuff for your meals are easily catered for.
Many apartments in Europe don't have Air conditioners, even though they generally have room heaters. This might become a problem in summer time as many of them do not have ceiling/pedestal fans also!! It's very important to confirm regarding this prior booking your accommodation especially if you are travelling with children.
If you have heavy baggage or are suffering from health problems, it's a must that you must confirm the availability of elevators in the apartments. Most apartments don't mention that which floor is it located and whether there is an elevator or not. You might be amazed to know that in most of the old cities (and cities like Venice), there are hardly any buildings with elevators!
The choice of accommodation is to be done taking into consideration the proximity with public transport (bus/tram stops, train/metro stations). For a city like Rome, even if you are staying at the outskirts, but the accommodation is just a few yards from metro station, then it will actually be a better choice. Because you will be spending much lesser than staying within the city for the same facilities, even though your travel time to the city will be slightly higher. And 10-15 mins more in travel duration will not make much of a difference
Places to Visit
There are enough data on sites like Tripadvisor, Wikitravel, Lonely Planet and in YouTube regarding the major attractions in each city. It is to be understood that you cannot visit every famous thing in any city. Therefore it's important to shortlist top ten interesting things in one city and try to cover them as much as possible. The final selection of places to visit can be done when you finalise your travel itinerary/route in a way that attractions within the close proximity can be covered in a single way so that minimum time/money is lost in travel when using metro/trams etc. Google maps will be of great help in this.
In Europe there are more number of museums than you can possibly guess. There is a museum at every nook and corner. But you should really think over it and decide whether you really have the interest to visit all these museums. Some museums like the Vatican museum or the Louvre museums are surely worth it, but numerous others are hardly worth a visit by a person who is not that acquainted with their displays. If you are travelling with a toddler then you possibly want to avoid long queues and very crowded places!
There are several interesting, but free, attractions in all the cities like many cathedrals and viewpoints. If you can do a thorough research in the net, you can surely enjoy many precious pieces or history, art and culture that are pocket friendly. The markets in many of the European cities are themselves great places to visit. For example, Campo de Fiori in Rome, Mercato Centrale in Florence, Rialto Mercato in Venice or La Boqueria in Barcelona etc. Also, there are many famous bridges like Ponte Vechio and Ponte Rialto.
If you are planning to enter places of interest or museums that are really famous, and if it's peak season, don't think twice about booking a skip-the-line ticket. Standing in the long queue is not only tiring, but also frustrating. Even though many famous attractions like the St Peters Basilica and all offer free entry for one day in a month, it's however not advised at all owing to the long queue expected on those days.
Eat and Drink
Eating at restaurants in Europe will become a very costly affair if it's at all those famous tourist attractions. However, if you try the menu of restaurants where the locals go, you'll realise that it's not that costly.
If you are staying at a place with kitchen, make sure you fill your stomach in the breakfast with all the local produce that you get at the nearby convenient stores. We really loved the fruits and yoghurt!! You can also think of packing and carrying a few sandwiches and fruits for the day travel. Chocolates and Pastries are also not a bad idea.
Always carry at least one litre of water with you and fill them up whenever you get a chance. There are public water points at almost all famous sites. You need to ask around to find them out.
We Indians have a typical problem of not getting enough masala for curbing the thirst of our taste buds! This will become really irritating for trips longer than a week or so. So it's always better to be prepared and carry a packet of masala of your own taste from your homeland itself. Probably you can take a break on a night and resort to cooking along with a pint of Belgian beer or a bottle of Italian wine!!
Miscellaneous
It's very important to travel with a light luggage. Four T- shirts and 2-3 shorts would seal the requirement. Other than toiletries, all other stuff can be bought after you reach your destination. Moreover, if you travel light you will be able to check out from your accommodation in the morning and still go around and see a few places with your luggage, which otherwise would cost you another day's tariff. For instance, if your flight is at night ten o'clock and your checkout time is 12 noon, you can easily checkout in time and go for visiting a couple of places, with your light baggage, and then go to the airport by evening.
Buy a sim card with at least 2GB of data for your navigation needs. It can be bought at the first airport you land with your passport. Otherwise you can buy sim cards from your homeland also (make sure you take the settings including the APN and all).
Schengen VISA which is valid for all the European Union countries are dealt in India by VFS Global. You can yourself apply for the VISA and save at least 2k per head as compared to going through a dealer. Remember that there is no added benefit that you get if you go through a dealer. All the documents that are required are easily available all over the Internet. Following are generally required for Visa application
Covering letter (including tentative itinerary)
All travel tickets
All accommodation booking references
Permission from employer (NOC)
Filled visa application forms
Original passport (and Copy of passports)
Passport size photos (04)
Last 3 years Income Tax Returns
Last 6 months back account statements
Any more financial documents (like Fixed Deposit slips, Credit card balance etc)
Travel insurance
Visa appointment letters
A travel insurance is a must for the travel and the same would generally cost around ₹2k for a period of 30 days. As per the extent rules, the travel insurance should be valid for a period of minimum 30 days and it should be covering a value of €30k. It's never more when the payment is for insurance. Remember that you are going to an alien nation and the medical expenses there would be exorbitant if you don't have an insurance.